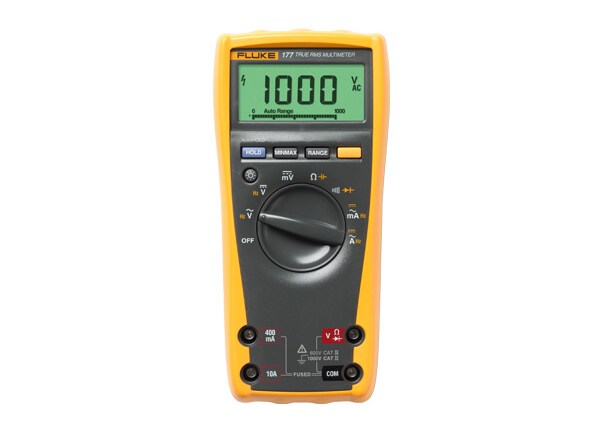 FLUKE MULTIMETER DIGITAL TRUE RMS
Mfg.Part: FLUKE-177ESFP | CDW Part: 1576432
FLUKE MULTIMETER DIGITAL TRUE RMS
FLUKE MULTIMETER DIGITAL TRUE RMS is rated5.00 out of5 by6.
Rated 5 out of 5
by
Barney
from
My Go To meter!
I purchased this meter several months ago and it's great. I really like the capabilities of the instrument especially with the size, weight and feel in your hand.I also have a Fluke 87V Electricians Kit for additional capabilities or when a second is meter needed. But the 177 goes with me into a site and is the first reached for everyday use around my shop. I've been using Fluke instruments since first working in a laboratory 1975. I also have an(cient) old Fluke 8012A Lo Ohm capable DMM on the bench in my garage at home. About 40 years old and the battery is long gone but still working on AC for quick bench measurements.
Date published: 2016-12-07T00:00:00-05:00
Rated 5 out of 5
by
Dan C
from
Can't do with out it
This is the first meter I go to when I am diagnosing an electrical problem, Wether it is testing a fuse, measuring current (AC DC) or checking miliamps this meter has it all, And durable! Have dropped it a few times with no damage
Date published: 2016-12-09T00:00:00-05:00
Rated 5 out of 5
by
TrashBurner
from
Portable and Functional
I purchased 2 Fluke 177's for our shop at work. They are light weight, portable, and accurate. They are rugged enough to stand up to the demands of our heavy industrial facility. It is nice to see a high quality product with a quality warranty still available in a world of disposable tools.
Date published: 2016-12-12T00:00:00-05:00
Rated 5 out of 5
by
Quang
from
Does the Job!
This multimeter is robust and does the job! Its ease of use and big display make it a breeze to use. We have about 6 of these at our facility. Hasn't died on us yet.
Date published: 2016-12-07T00:00:00-05:00
Rated 5 out of 5
by
JohnL
from
Especially useful is the "hz" function
This is a DVM that I use at work (quite a bit).Besides the typical uses for it (DC voltage and Current), I also work on developing blower and the "hz" function is extremely useful for monitoring the tachometer output (square wave function, freq corresponds to blower rpm)
Date published: 2016-12-08T00:00:00-05:00
Rated 5 out of 5
by
Bob B
from
Durable and accurate meter
I purchased this Fluke 177 for my personal use due to working with Fluke meters in my workplace. I am an electrician and I work in electrical maintenance and I know how well made a Fluke meter is. My meter is used for many things ranging from troubleshooting basic electronics, house wiring, lighting, and working on RVs. I am very pleased with it. I always try to be careful with my instruments but it is good to know this Fluke is designed for the work environment. I would recommend without hesitation.
Date published: 2016-12-07T00:00:00-05:00