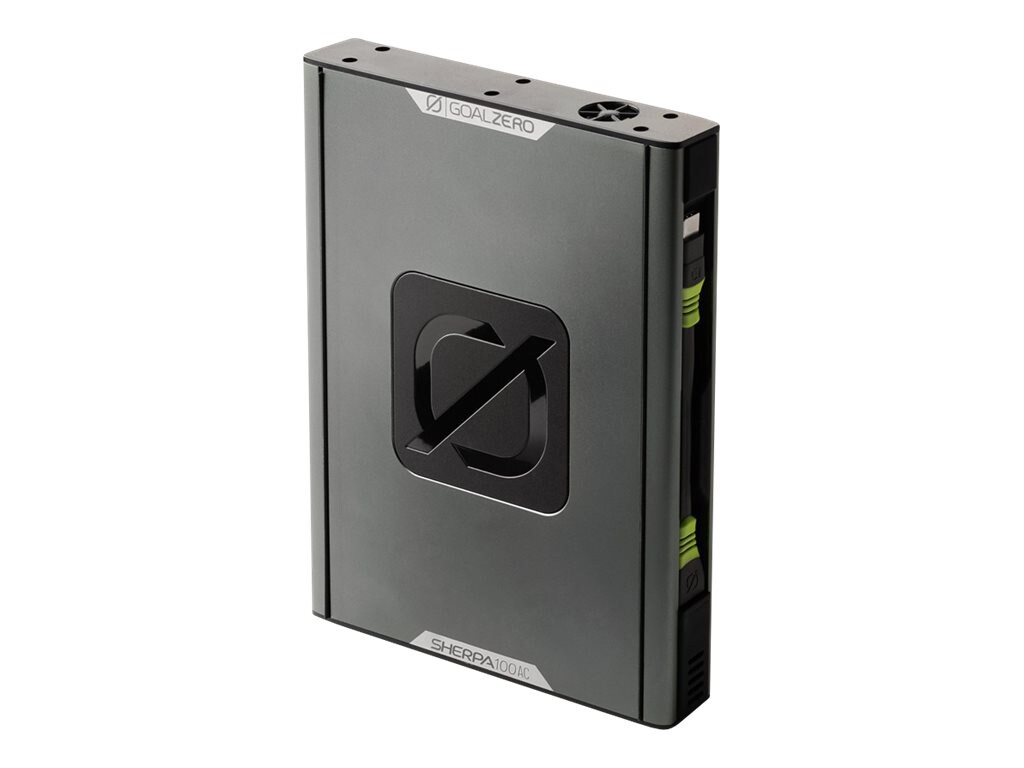 Quick tech specs
Wireless charging receiver / external battery pack / DC to AC power inverter
100 Watt
lithium nickel manganese cobalt oxide
94.7 Wh
5 / 9 / 12 / 15 / 20 V
1 x battery
6400 mAh
View All
Know your gear
Sleek and powerful, the Sherpa 100AC is your go-to source for versatile power while on the move. Airline approved and travel ready, the power bank is equipped with innovative features like wireless charging, high-speed Power Delivery, and a variety of ports to power phones, tablets, DSLR cameras, and laptops.
Goal Zero Sherpa 100AC - wireless charging receiver / external battery pack
is rated
4.20
out of
5
by
25
.
Rated

5

out of

5
by
Zebraperch
from
It Just Works!
I prepurchased the Sherpa 100 AC and received it the day it was released. I've used it several times now to charge camera batteries, cell phones, and laptops. Over this past Thanksgiving I charged a Canon EOS 60 D camera battery with less than 25% charge off the Sherpa 100 to 100% in under an hour. The Sherpa lost 14% of its charge doing this. I take this with me when I travel so I can keep all the necessary electronics charged because it is small, light weight, and holds charge well. I've been very happy with its performance, ability to charge multiple electronic devices off one Sherpa charge, and ability to hold a charge for weeks on end.
Date published: 2018-11-26T00:00:00-05:00
Rated

5

out of

5
by
CMagnuson
from
One fatal flaw: charging
When plugged in to charge, this battery automatically begins draining itself once it reaches 100% charge. This means that when you go to unplug and use the battery, its capacity can be as low as 92% even though it's been "fully charged". This is remarkably inconvenient because to attain a full battery, you have to keep a constant eye on the battery while charging so that you can unplug it the moment it hits 100%. I'm a gadget-oholic. I've spent tens of thousands of dollars on devices across the electronics spectrum. Despite my deep experience with electronics, I've never before encountered a device that behaves in this remarkably odd manner when charging. I cannot fathom why this battery cannot disconnect itself from the power source it's plugged into once it reaches 100% charge. My phone can do this. My portable battery packs can do this. Even my Chinese-made electric motorcycle battery can do this. While this battery pack appears to be quite advanced on the surface, its inability to hold a charge when plugged in to charge leaves me disliking the product. If I hadn't thrown away the packaging, I'd return it for a refund.
Date published: 2018-11-01T00:00:00-04:00
Rated

5

out of

5
by
ricq
from
perfect for my uses
i use this primarily as a power source for my motorcycle trips. i plan to get a solar panel for longer stays, but for now the 12v input is perfect from my motorcycle's battery. i mainly use this for a power-hungry iPad Pro that just wasn't appreciating my old USB-A battery brick. at home, it also makes a decent hub for charging things on the bedside table. it is a bit pricey, for comparison i have a RAVpower 99Wh battery with three USB-A that cost me about $45. so price-per-Watt-hour, it's worse, but there is so much packed into this, for me, it is worth it. my alternative would be to find another equivalent inverter, and some high-power USB-C bricks, and adapters. on a motorcycle, every cubic inch of space saved is vital when traveling. this thing is perfect! (i'll list the only con as "Pricey / Poor Value," but honestly, it's only the price that i don't like. for my personal uses, its value is very high)
Date published: 2020-08-14T00:00:00-04:00
Rated

5

out of

5
by
StefanW
from
Totally misses the boat or great outdoors
Where is the 12V 10Amax output? Where is the direct laptop output? USB power packs are like sand, everywhere and much lighter and cheaper. Trying to charge something else via the inverter (not removable) is highly inefficient. As long as there are nice used Sherpa 100 units on Ebay I will not change and do not recommend this unit. Bring back the: 6mm port (output, 6mm, green, hexagon): 12V, up to 10A (120W max), regulated laptop port (output, 7.4mm, orange, square): 19V, up to 6A (120W max)!
Date published: 2019-06-04T00:00:00-04:00
Rated

5

out of

5
by
Rory
from
Wanted to love it
Bought mine from REI. Charged it b4 using then plugged it into a laptop that was at 30% and placed an iPhone that was at 40%on top for wireless. The laptop got up to 75% & the iPhone to about 80% in 2.5 hours before the unit was out of juice. Was expecting much more given the optimistic specs suggesting 2 x laptop charges. Repeated the exercise. - charged unit to 100% then tried laptop, iPad, iPhone or combos but the staying power wasn't there. Ultimately took the it back to REI for a refund. I have other G0 items like Yeti 400 and happy but this didn't live up to the hype
Date published: 2018-10-26T00:00:00-04:00
Rated

5

out of

5
by
AndrewGZ
from
AWESOME!!!
FINALLY!!! This is what I've been waiting for from GoalZero for years and years... an upgrade to the Sherpa's. I have a few of the 50's and 100's and they're great and rugged for outdoor use.... but for business and travel and everyday use they were a bit chunky,,, okay very chunky. This slimmed down version is perfect for power - all day commuting and also outdoor use. With the AC plug built in, it's profile is thin and slick. I've only had this for a few days, but I've used it enough on my daily commute and flight to appreciate it already. The LCD panel is a huge upgrade and at 25k mAH.. thank you!!! Keep it coming GoalZero!!! Oh yeah... the case for the price is awesome and recommended.
Date published: 2018-09-27T00:00:00-04:00
Rated

5

out of

5
by
Roxy
from
My new permanent travel buddy
The Goal Zero Sherpa 100AC Power Bank takes the stress out of getting work done from the road. While I've only been using it for a few months, I can already tell it will travel with me for the next few years. I used it when outlets were taken at cafes, when I needed all my extra batteries on board in the backcountry, and when I was too lazy to find an iPhone charger. The OLED screen makes it easy for even the most electronically challenged figure out how much power is being used or charged. Besides a few items that could make this product perfect, I am happy to call it my permanent travel buddy. Bonus- it's the biggest power bank you can take on flights, so you'll never run out of power on your long flights.
Date published: 2019-12-11T00:00:00-05:00
Rated

5

out of

5
by
varfly
from
Great Solar charge controller in this one.
Compared to my Yeti 400 Lithium the solar charge controller in this one is great. When the Yeti get 44 watts from the panels (boulder50 + nomad20, which is to be expected, and I move the 8mm charge plug over to the Sherpa I get 55-60 watts. Maybe a MPPT Solar charge controller built in here? And the USB PD works great with the MacBook Pro 2018 charging at 50-60 watts. GREAT PRODUCT.
Date published: 2019-04-08T00:00:00-04:00
Rated

5

out of

5
by
SkyKing
from
Best Power Bank of this type & capacity compared
The Goal Zero Sherpa 110AC is under-promised and over-delivered. I charged my Sherpa 100AC to 100% from 110v power adapter when I first received it. Then I put it to its first and stringent test: charging a DJI Phantom 4 Pro battery from the Sherpa 100AC's 110V AC-port. Mind you that the Sherpa 100AC is rated "up to 100 Watts" (.9 Amps). The Sherpa 100AC charged the DJI Phantom 4 Pro battery from depleted to 100% without a hiccup. At times, the Sherpa's informative and always visible illuminated display showed the drone battery drawing as much as 122 Watts. Now, admittedly an OCD person when it comes to "backups" of every type, I have many different "power banks" and solar panels...Although mostly Goal Zero. My place looks like a Goal Zero showroom. I tested the DJI Phantom 4 Pro drone battery against two other types of, supposedly higher capacity, power banks: The "Suaoki S270 Portable Power Station 150Wh Quiet Gas Free Camping Generator QC3.0 UPS Lithium Power Supply", rated at 150Wh and "max 100W, peak power 150W". After a few minutes of charging the DJI drone battery, the Suaoki Shut down completely. I restarted the S270 and again, after a few minutes, it shut down completely. While the S270 has several 12V, USB and 2 110V AC outlets, it does not have a Qi 5W wireless charger like the Sherpa 110AC does, not is it as compact as the Sherpa 110AC or have an informative display like the Sherpa 110AC does. Next, I tested it against a iPrigent "Portable Solar Generator Power Source - 41600mAh 154Wh" which claims to have a 120 Watt inverter output. When I attempted to charger the DJI Phantom 4 Pro battery, it shut down in less than a minute. The iPrigent has a single 110 v output port/receptacle and two USB ports. The input port is a DC 19 volt, 2 Amp socket that charges the unit from an AC-adapter or solar panel. It lacks any "informative display" and simply states it remaining capacity with a series of 4 tiny blue LEDs. Now back to the Goal Zero Sherpa 100AC: It is compact and high quality throughout. For input (recharging it) it has a standard 8mm Goal Zero input receptacle and two Type C connectors, each rated at 60 Watts each. The Type C connector is 2 way so it can be used for input (recharging) and output (charging something else). It can be recharged with a 12v car adapter as well. The Sherpa 100AC has 2 USB ports rated at 2.4 Ams each, and 1 110 volt AC receptacle . It has a wireless Qi 5 Watt charging pad for phones that have Qi compatible wireless charging, as with the latest iPhones and many Android devices and tablets. I used the Sherpa 100AC to wireless-charge my nearly dead iPhone X, which took between 2 and 3 hours and only consumed 22% of the Sherpa 100AC's capacity. I'm a photographer, using drones, Matterport Systems and conventional still and video equipment. I almost "live" on battery and solar power. The Sherpa 100AC is now my favorite all-around device when I need its capacity. For higher capacity demands I rely on the Goal Zero Yeti 400 Lithium and Yeti 1400 Lithium. In my opinion, the Goal Zero Nomad 28 Plus is the most convenient way to charge the Sherpa 100AC when sun is available. When you want remote or backup power, "usually reliable" is not an option. As a matter of fact, I consider "usually reliable" an oxymoron. I have found this Sherpa 100AC to be "reliable" as in "completely reliable", which is what you want. If you're considering a Power Bank of this capacity, look no further and get the Goal Zero Sherpa 100AC. I doubt that you'd have any second-thoughts!
Date published: 2018-10-28T00:00:00-04:00
Rated

5

out of

5
by
Ciancio
from
Great upgrade
I got my Sherpa100AC in today and so far I love it. The case feels sturdy and looks great. I topped it off/ charged it for the first time using the USB-C port. After that I started plugging different things into all the different ports to play with the interactive display, which has a lot of information that can really let you know what is going on with the equipment you have plugged into and how much time you have left with your current power use. The wireless charging and on-board cord holders make this a breeze to bring with you without worrying about leaving something behind. I intended to continue playing with/ testing it and will update my review as needed.
Date published: 2018-09-21T00:00:00-04:00
Rated

5

out of

5
by
Rey Collado
from
FAKE Specs
I bought this product because of the incredible specs that was offering but is all a LIE. This product dosent have 60W output. I tried to charge a lot of devices and the output is always lower than 20W. I can get de same watts with a cheaper power bank than this.
Date published: 2020-01-14T00:00:00-05:00
Rated

5

out of

5
by
johnnyblaz
from
Fantastic for Apple Products
Works fantastic for 2019 Macbook Pro 15" and Apple iPad Pro 12.9. Charges my Macbook fully 1x, and iPad Pro 2x. USB-C is fantastic, and doesn't require efficiency losses through the inverter or Apple power adapter. And it eliminates my need to bring an Apple charger with me. If you want to recharge the Sherpa quickly, the Apple USB-C charger does it in under 4 hours. the OLED screen is great; shows your watts in/out per channel. This thing is great. The USB-C cords are VERY tight in the Apple USB-C ports. So tight that I only use the Apple USB-C cords for fear of damaging my Apple products.
Date published: 2019-06-28T00:00:00-04:00
Rated

5

out of

5
by
CDNON
from
null
I bought this unit a few months ago and have been using on & off for business and personal use. Unit functions as intended and have not regretted the purchase. Applications: Business - Laptop and phone charging and have also used this in an R&D for supplying power to a camera for video capturing of a project (GoPro). Personal - used to charge a variety of training gear that I use for Triathlon. I have charged my training watches (Garmin), bike (Garmin), Headphones, Apple, Head Lamps, EDC Flashlights (Olight) and a variety other accessories etc. The footprint has worked well for me for both business and personal for my lifestyle. However, I did find charging to be a bit slow and bought the additional charger to help expedite this process vs. USB etc.... I also bought the neoprene sleeve to replace the box it came and protect the unit when I through it from my work bag to my training bag(s). I also found that when I let my wife or co-workers use this unit, I had to explain the inputs/outputs of the unit, so much so - I labelled them to indicate what used for charging only, bidirectional (input/output) and output only. I believe having the outlets labelled would be something to possibly add to the next generation of this model. I have been looking at Goal Zero for sometime and this was my first purchase. I am looking for something with a larger capacity for home/cottage backup and believe the Sherpa100AC has provided an strong introduction to their product line.
Date published: 2019-07-04T00:00:00-04:00
Rated

5

out of

5
by
Lorne
from
Qi fix question
I'm happy with this except for the Qi charger. It doesn't seem to be compatible with iOS devices.
Date published: 2022-09-25T00:00:00-04:00
Rated

5

out of

5
by
DavidL
from
Good to go, even when you don't know where
I own many backup batteries. Some are basic, some come with solar backup support. None match the Sherpa. Four ways to charge - USB-C, USB-A, Qi, and just plug it in. My cable support bag is larger than the battery! I've even used it to power my transceivers (although it was only a field test). Best of all, pair it with a solar panel and you are live off-grid (or in Northern Ontario, your choice). Even bounced it off the concrete. Bent the frame, and kept on working.
Date published: 2022-11-07T00:00:00-05:00
Rated

5

out of

5
by
Danny1828
from
Best power source on the go
I recently had to go out of the country for work with minimal room for equipment and not sure about the availability of a power source. I had recently purchased the Sherpa 100AC with the 20w Nomad solar panel and decided to take it with me on my trip. For 37 straight days I used this as my only power source for my cell phone, airpods, lap top, and nintendo switch on a daily basis. I had no issues with the power bank being fully charged with the sun blazing the majority of my sleep cycle, I always had my things charged and ready for the day along with a fully charged power bank. I can say with the assorted ports, it made it easy to have multiple electronics plugged in at the same time.
Date published: 2022-01-20T00:00:00-05:00
Rated

5

out of

5
by
Barney323
from
Perfect for all my products
Bought the Sherpa 100 for 3 week trip to Utah to visit 12 parks. Worked great in airport and where I had limited power. Covered 2 cells, iPad and computer on the total trip. Charging only at night. Highly recommend.
Date published: 2022-06-15T00:00:00-04:00
Rated

5

out of

5
by
Weagle
from
Best Power Bank I've ever used!
I bought the Sherpa 100AC along with the Nomad 20 and fell in love with it's capabilities so much that I went out and bought the Sherpa 100PD for my wife as well. We are about to set off on a European cruise and I wanted reliable and dependable solution to charge all our toys (cell phones, cameras, etc) for the 10 hour plane ride as well as on board the river cruise ship. I charged up my Sherpa 100AC from the wall over night when it first arrived. I've used it frequently and have only been topping it off with the Nomad 20 ever since. When the Sherpa 100PD arrived, I charged it from the Sherpa 100AC for it's initial charge. Ever since I've never plugged either of the Sherpa's into a wall. I love that they have the ability if needed, but the Nomad 20 works great topping them off. I really love the pass through charging capabilities of the Sherpa 100AC, this allows me to daisy chain them together and let the Nomad 20 do it's work. With the multitude of ports on the Sherpa 100PD, I forced one USB-C to be input only and the other to output only, this allows me to charge my Sherpa 100PD without any concern of the energy going the wrong way. No complaints at all after 2-3 months of use.
Date published: 2022-07-20T00:00:00-04:00
Rated

5

out of

5
by
Downslide
from
Amazing in the Wilderness
I've had this for about a year and a half and love it. Most of my use is out in the bush or on the water - I pair it with a Nomad solar panel, and use the 110 plug to recharge my camera batteries as well as my boat (motor) batteries (Lithium Ion). When I'm 30 miles from cellular service out on the water in the mountains I have peace of mind that my boat won't run out off power... or my camera!
Date published: 2023-04-13T00:00:00-04:00
Rated

5

out of

5
by
dan.
from
great deal!
I like the build quality; and it puts out enough watts to easily charge my laptop and other items. I also like the older version how it has storage for usb cables; that come in handy. the sales price is a great deal!
Date published: 2023-04-10T00:00:00-04:00
Rated

5

out of

5
by
Jimmy2Fat
from
Excellent Power Bank
I am a new consumer to Goal Zero products. This item is less than a week old. I have put through the paces of use indoors and out. Currently, it exceeds my expectations. I drained it and recharged it several times Charging time on USB TYPE C is fast. I have not hooked to Solar Panel yet because I just ordered a Solar Panel. Hoping to test the panel as well. I am going to use this combo package for hiking and camping this summer.
Date published: 2023-02-03T00:00:00-05:00
Rated

5

out of

5
by
steve78
from
Great Resource
I purchased this about a month ago, looking for a power source that I could carry with me when I need it. The Sherpa 100 delivers all it promises and more. Well built, versatile and adaptable to multiple devices. I highly recommend it.
Date published: 2023-05-08T00:00:00-04:00
Rated

5

out of

5
by
Ohana Zone
from
Almost There
I purchased the Sherpa 100AC (previous Model) about a month ago and have tried everything to get it to charge to 100% but have only been able to get it to 99% a couple of times. . .almost there. Other than that it does pretty much what it is advertised to do and the price was good! I would recommend this product at a lower price point if it is being sold with an inferior battery that can not charge to 100%.
Date published: 2023-05-07T00:00:00-04:00
Rated

5

out of

5
by
EHRC
from
Five Year Review
Bought this almost five years ago now and loved using it for about the first two years. Use would include maybe monthly camping trips (2-3 nights) charging lights and phones and then occasional around the house use to keep the battery fresh. After about two years I started to notice that when I would leave it plugged in to charge, it would reach 100% and then slowly drain from there even when plugged in to a power source. Didn't matter if I used the GoalZero AC wall charger or the USB-C charger included, it would just drain. Now at about year five, the unit will drop about 3% every two hours. So saving it for emergencies or in the car on trips is practically useless. I understand that technology is always being updated and such but this is still the case after multiple conversations with GoalZero staff and conducting their recommendations to keep the unit healthy. Suppose it's time for the new version, when it goes on sale! Really good for people who need a lot of power in a relatively small and versatile package and are home to charge it every night but who can also afford to toss it and replace it when it gets "worn out".
Date published: 2023-02-18T00:00:00-05:00
Rated

5

out of

5
by
Alex H
from
Outstanding for off-grid cabin
We bought this two or three years ago for our off-grid cabin. The cabin has a propane fridge and stove, so we use the Sherpa 100 and a Boulder 50 solar panel to charge electronics (laptop, tablet, phones, and other backup batteries). It works brilliantly and enables us to spend a week or more at the cabin working remotely instead of only going for vacations. In the sunny summer we have basically unlimited use of our electronics with just the 50 Watt solar panel. I'm the winter when it's cloudy for several days we sometimes reach the limits of laptop use, but even on cloudy days we get enough quick spurts of sun that we have no trouble getting enough charge for phones to stay charged for extended trips. USB-C ports to charge even laptops without needing to use the AC inverter are especially nice. We don't use the AC inverter much but it's nice to have as a backup. The 100 W limit is too little to handle our main desired use of the inverter, which is to charge -8 V batteries; their chargers typically require 60-300 W. even the 60 W charger tends to overheat the battery before long. We're so happy with this 100 W small power station that we might get a 300 W or 1200 W Yeti to be able to handle larger demands. We do use the Sherpa occasionally to power a powered cooler; it does ok for that as long as the sun is shining. I have a design complaint which is that the outlets and display are on the same side of the device. Looks like they've addressed that with the new version of the Sherpa that replaced this one. But that's a very small complaint anyway.
Date published: 2023-08-06T00:00:00-04:00