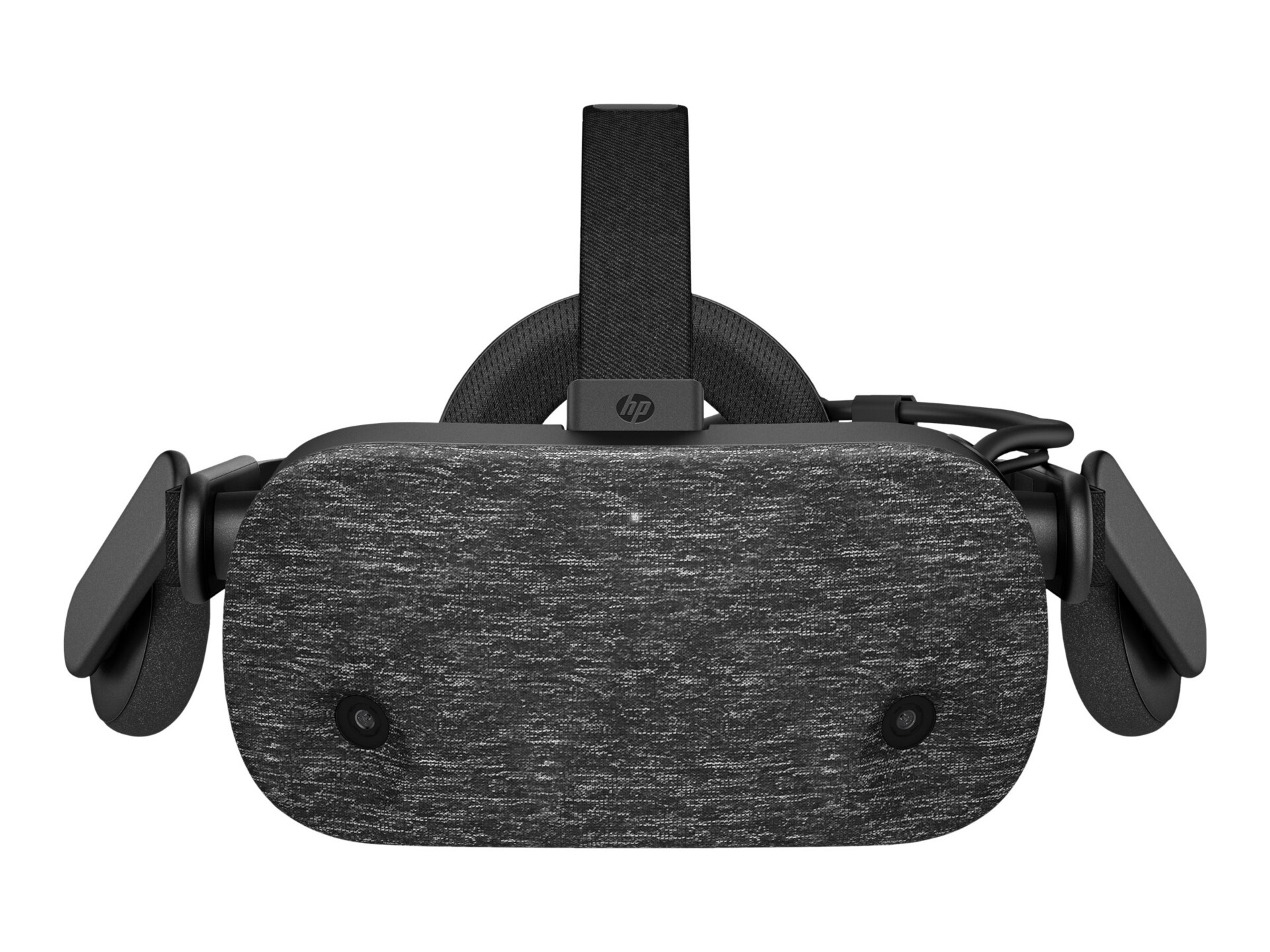 Quick tech specs
Windows MR and SteamVR Compatibility
With 1 DisplayPort to Mini-DisplayPort adapter
View All
Know your gear
Transform your expectations of VR. With double the resolution, two times the pixels, take your content to another level with this ultra-light, ultra-immersive headset that's changing the game.
Contact Sales Assistance
(800) 808-4239
,
Monday-Friday 7am-7:30pm CT
HP Reverb Virtual Reality Headset - Professional Edition
is rated
4.39
out of
5
by
18
.
Rated

5

out of

5
by
Jeff1975
from
Great visual clarity
I came from the Rift S. This is a huge upgrade for iRacing in terms of visual clarity!
Date published: 2020-02-07T00:00:00-05:00
Rated

5

out of

5
by
JeffreyBurr
from
Extraordinary resolution makes ALL the difference
Fast shipping. Just so imersive I can't believe it. It is really astounding how clear it is. All else works perfectly. One of the great purchases I have ever made. Had the Samsung Oddesy + and sold it for what I paid for it and this is just night and day better.
Date published: 2020-05-23T00:00:00-04:00
Rated

5

out of

5
by
Chris Shelton
from
Next level VR is here
I upgraded to this headset from a Samsung Odyssey +, and I must say, it is indeed quite an upgrade. It checks a lot of the boxes. It's lighter, more comfortable, and more adjustable for fit. It has removable headphones, so I can keep using my high level noise cancelling headphones.The biggest upgrade is in the visuals. The resolution is almost as crisp as using my monitors. This headset is the one that has finally bridged the gap to the monitor.Now gamers can't use the excuse that they don't use VR because it's not as crisp as thier ultra high dollar monitor set up.What sealed the deal for me was the excellent customer support I received while I was researching it. I had a couple questions regarding the version and specs, and the customer support was top notch in working with me to answer all my questions.
Date published: 2020-05-26T00:00:00-04:00
Rated

5

out of

5
by
mc92562
from
Stunning clarity and sharpness
I am very impressed by this headset. the graphics are close to monitor quality. I use it with a high end PC with RTX-2080ti, and all game settings are on ultra. The headset is very light and comfortable, allowing me to play for hours. Only wish I have for your next generation headset is to increase the FOV (but keep the resolution).
Date published: 2020-04-27T00:00:00-04:00
Rated

5

out of

5
by
Bat 21
from
HP, support
There is no user support, I am having a hard time with using the headset with a game and got zero information, if there is no hardware problems and you need to have help using it they will give you no help, I just tried and got that response, if you are a gamer go with some other VR company
Date published: 2019-10-11T00:00:00-04:00
Rated

5

out of

5
by
Bernard IV
from
Best VR headset right now for simming.
This is the currently the best headset for simulations out there due to its high resolution. Recommended for flight simmers and racing sim enthusiasts. It could be improved with a wider field of view but that is something for the next generation of hardware. The controllers aren't as good as the gold standard Oculus Touch controllers, but they are good enough. You will need a stout system with a fast processor and a 1080TI at least to run this headset at an acceptable frame rate. I find this headset comfortable with a 65.5mm IPD. Your comfort may vary as the IPD is only adjustable in the software.
Date published: 2020-02-16T00:00:00-05:00
Rated

5

out of

5
by
MikeWin
from
Best Resolution
For the money this has the best headset resolution. Makes flying and driving sims much more realistic.
Date published: 2020-02-13T00:00:00-05:00
Rated

5

out of

5
by
Pachanga
from
Great Support
Nice headset, better resolution than the Oculus I had. Less cumbersome to setup but it could be improved by having a more flexible cable to the headset. Had issues with the first unit and HP support was amazing. They sent me a replacement unit and I am a happy customer. Next day air was more than I could ask.
Date published: 2020-01-12T00:00:00-05:00
Rated

5

out of

5
by
CKGAmer
from
Super Good!
Great quality product! Clear vision and overall a great product!
Date published: 2020-02-23T00:00:00-05:00
Rated

5

out of

5
by
Rufholt
from
3D GAMES
Can't make 3D work in games. I need help. The video's look great in 2D though.
Date published: 2020-06-05T00:00:00-04:00
Rated

5

out of

5
by
Phaze
from
I like it overall
I like it overall. Great clarity. Comfortable to wear. The connector between the headset and the cable could be better designed but if you wrap it with electrical tape and secure it to the headset it works fine.
Date published: 2019-06-22T00:00:00-04:00
Rated

5

out of

5
by
Kevlaw1
from
null
I brought this because a friend gave me a rift cv1 and after some research I got the reverb for the Better resolution and I love it
Date published: 2020-06-06T00:00:00-04:00
Rated

5

out of

5
by
jdmills
from
Best in class for seated VR
The clarity and quality of this headset cannot be overstated. Overall, it's tracking is also sufficient to provide a fluid and pleasant experience in room scale; but I caution anyone considering this headset to ensure they have a powerful enough PC to run it. I've got dual 2080 Tis, and still struggle to run some games to the fullest potential of the reverb. This is good, because it means your headset won't be the limiting factor to your experience.
Date published: 2020-06-10T00:00:00-04:00
Rated

5

out of

5
by
fbfb
from
Everything as expected
Headset is a big improvement in immersion from earlier technology so I am enjoying my Reverb tremendously. I use strictly for sim racing so have no comment on controllers. Lenses have to be kept very clean!
Date published: 2019-12-15T00:00:00-05:00
Rated

5

out of

5
by
Pilot172
from
HP Reverb - 3 Headsets and Chromatic Rainbow
Still trying to decide whether to keep the headset after trying 3 unit. Amazing clarity but suffers from strong chromatic aberrations approximately 20% in all directions outside the center view. Aberration is rainbow colors around white text and along straight lines. Contacted support but apparently this is a character of the unit as no explanation on how to correct was offered. Good eyesight and IPD 63. Had friends look as well with same results. Very good headset otherwise.
Date published: 2019-12-20T00:00:00-05:00
Rated

5

out of

5
by
DHolland
from
WOW
I have used several different Windows Mixed Reality headsets and the HP Reverb is definitely the best.
Date published: 2019-06-23T00:00:00-04:00
Rated

5

out of

5
by
RolBer
from
Great resolution but screen issues.
These vr headsets have alot of issues. Mine starts to flicker when they get hot. They need to be redesigned with better components.
Date published: 2019-07-04T00:00:00-04:00
Rated

5

out of

5
by
Gus1234567
from
Great product surpasses anything else on the marke
Surpasses any other head set on the market. So glad I waited for this product.
Date published: 2019-09-11T00:00:00-04:00