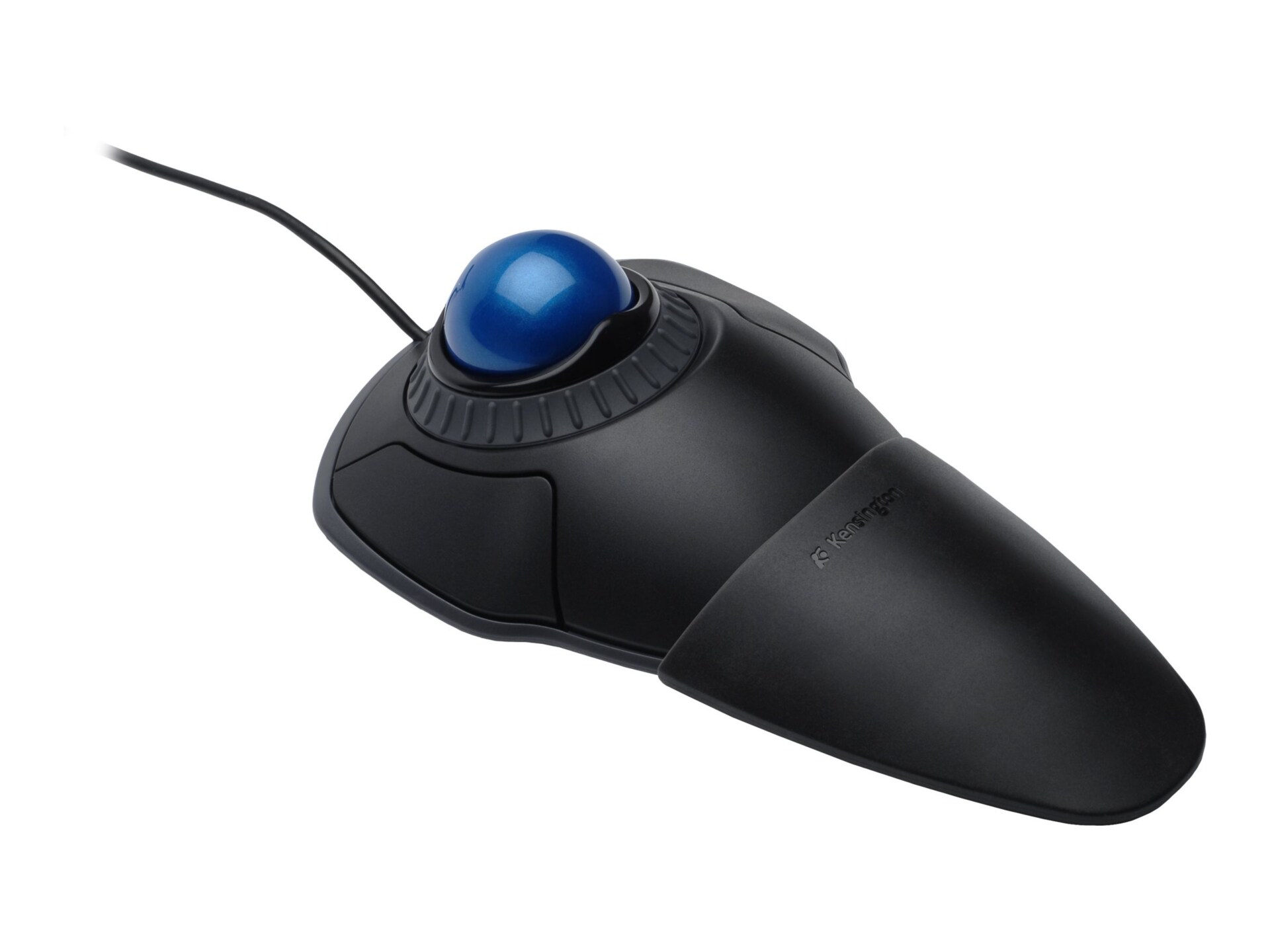 Know your gear
All-day comfort and scrolling come together in the Orbit Trackball with Scroll Ring. The award-winning scroll ring allows you to spin through web pages and long documents without the need for clicking. It offers better ergonomics, with less wrist and hand movement that will ease the pain of repetitive-stress injuries. KensingtonWorks software gives you the opportunity to assign specific functions to your 2 buttons and create a truly customized productivity experience. Optical tracking provides smooth and accurate cursor control, and a detachable wrist rest offers terrific ergonomic support when you're hard at work.


Kensington Orbit USB Wired Trackball with Scroll Ring
is rated
3.60
out of
5
by
10
.
Rated

5

out of

5
by
4bundy
from
Overall a great product!
If you are in the market for a replacement for your mouse, then you should consider this track ball. The scrolling ring is a great option which I use often. More importantly, the extension that connects to the base allows you to use it without a separate arm rest. My only suggestion would be to make it slightly taller but I'm saying that just to pick on something. I really have nothing to complain about. GREAT product.
Date published: 2018-06-13T00:00:00-04:00
Rated

5

out of

5
by
clarkt
from
Outstanding
For the cost of this unit it is without a doubt the best trackball on the market. The scroll ring makes life so much easier when you are trying to read/review a large spreadsheet or a very long document.
Date published: 2016-07-15T00:00:00-04:00
Rated

5

out of

5
by
vinicky81
from
Scroll ring
I had got this one a month back. I am not so pleased with it after using it. The trackball is smooth and excellent. However, the two buttons are very stiff and a bit sloppy. They are not ergonomic. It is not comfortable to use.
Date published: 2011-01-28T00:00:00-05:00
Rated

5

out of

5
by
Unhappy
from
Do not purchase.
Do not purchase this product. Issues with right and left click with two monitor setup right away. Discovered after purchase lots of other users have had similar issues.
Date published: 2021-11-04T00:00:00-04:00
Rated

5

out of

5
by
jonesd
from
Very pleased
There are a few things I really like about this trackball: (1 the large, centered ball is easy to move and is accurate, (2) the scroll ring is very intuitive and right at your fingertips without being in the way, (3) its symmetry allows both left and right handed use for when one gets tired or needs to re-arrange workspace, and (4) it needs very little cleaning, and what it does need is simple and takes seconds (i.e. pop out the ball and flick the gunk off the 3 supporting 'beads.')I do not use more than the two buttons during my normal work, so that is not an issue for me. And on mine, the buttons are as well-fit as any others on any other pointing device I've owned (none of which have been particularly high-end) and not sloppy at all. YMMV.Logitech makes one similar (the trackman marble) I also use with two major buttons and two minor/higher/smaller ones but no scroll ring. I find I have gotten quite used to the scroll ring and instinctively "try to use it" even when it's not there.Why not 5 stars? Simply that it doesn't blow me out of the water. It does what it's supposed to do and has done so for me reliably ever since I got mine about a year ago.
Date published: 2011-02-03T00:00:00-05:00
Rated

5

out of

5
by
RR
from
Prefer the one where the ball is moved by the thumb
Trackballs and mice are a very personal interface. So, my review is only for me and I would not claim that it makes much sense to assume you'll have the same preferences. That said, this was my first attempt to use a trackball where the fingers rotate the ball and the thumb is used for left clicking.Bottom line is I'm used to the other approach, where the thumb moves the ball. And I like that one better. Unfortunately, most manufacturers don't seem to want to produce the thumb for the ball configuration in a wired trackball.
Date published: 2022-01-25T00:00:00-05:00
Rated

5

out of

5
by
Larry
from
Orbit Trackball with Scroll Ring
This is a nice ambidextrous Trackball, but the Middle/Drag button setting doesn't always work well with SolidWorks. If it did I'd give it 5 stars.There is no adjustment available in the TrackBallWorks configuration APP for Sensitivity/Timing for this simulated button (which controls model spinning, and so is fairly critical. It would be better to have a way to configure this feature, Maybe Kensington can add it to TrackBallWorks?
Date published: 2019-11-25T00:00:00-05:00
Rated

5

out of

5
by
M Furtado
from
I like it.
It is taking some time getting used to the center trackball and ring scroller after using a left-thumb trackball and center scroller for many years. It is very smooth and seems to be able to exercise quite precise control. I like it.
Date published: 2022-01-23T00:00:00-05:00
Rated

5

out of

5
by
Don't have one.
from
Very good mouse
I especially like the scroll around the ball that lets you scroll down the page.
Date published: 2021-11-12T00:00:00-05:00
Rated

5

out of

5
by
Anonymous coward
from
Kensington Orbit Trackball with Scroll Ring
So far so good after a few months. The main buttons (i.e. their micro-switches of my last two trackballs from another company both failed in less than 2 years. Will see.
Date published: 2021-08-29T00:00:00-04:00