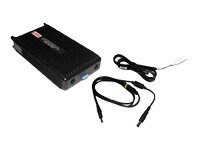 Know your gear
The DC Laptop Power Adapter's microprocessor control adjusts the output power to the full operating requirement for this series of laptops. The Lind DC-DC adapter for the Dell laptop models will operate these laptops and will recharge its battery.

PRODUCT FEATURES:

Adapters are housed in rugged Aluminum cases and sealed for durability;

Output short circuit protection! Safety current limiting;

Internal temperature limit cut-off circuitry;

Automatic Reset after cut-off conditions return to normal;

UnderVoltage and OverVoltage Protection.

This DC Power Adapter is compatible with Dell Inspiron 1150, 8500, 8600, 9200, 9300, Latitude D610, D800, D810, X300, 100L, Precision M60, M70 series (Bare Wire Input leads).