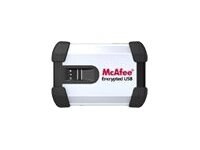 Quick tech specs
120 GB
Hi-Speed USB
Minimum QTY of 10 is required for purchase.
external
federal government
View All
Know your gear
Everyday, employees are walking out of their offices, unaware of how unsecured their portable devices are. USB drives, due to their small size and portability, are great for storage but a security nightmare. They can easily be lost or even used for corporate espionage.

By using McAfee Encrypted USB storage devices, you are assured that the information copied and transported onto these devices is safe and can only be read by the authorized persons.

McAfee Encrypted USB drives are secure, portable storage drives that incorporate built-in user access control and strong data encryption, ensuring that sensitive data remains secure wherever it travels. Data is encrypted "on the fly" with virtually no performance loss or special training required by the end user. It also provides personal and corporate credentials protection and validation, ensuring that identities remain secure.

Deploying and managing portable storage devices across an enterprise can be extremely complex and expensive for an organization. Centralized management enables corporations to overcome these challenges by making it easy to deploy and manage McAfee Encrypted USB drives on an enterprise-wide scale, with virtually no impact on your existing IT infrastructure. Any number of users can be effectively managed and controlled. Because each device name is linked to a unique serial number in the Microsoft Active Directory, USB drives can be easily traced back to the original user. The result is maximum protection over your organization's assets with a low total cost of ownership.

McAfee Encrypted USB supports your compliance efforts. Security policies are enforced on the end user, ensuring that data stored on the device is protected if the device is lost or stolen. Your organization can also prove that the device was encrypted with extensive auditing capabilities, using existing reporting tools. Users can regain access to data even if they forget their passwords or can no longer access drives via biometric authentication. Access recovery is accomplished through a challenge-response mechanism.


Contact Sales Assistance
(800) 808-4239
,
Monday-Friday 7am-7:30pm CT