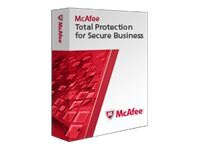 Know your gear
Over the past couple of years, security threats have become more complex and more numerous. The desktop anti-virus product that you purchased a few years ago might not be able to detect the new forms of malware and rootkits that are out there. And a misplaced laptop that contains sensitive data can have a devastating impact on your business.

Security solutions exist for all of these problems, but the typical medium-size businesses does not have enough time, money, or expertise to acquire, deploy, and manage a patchwork solution that consists of standalone products.

McAfee Total Protection for Secure Business solves this problem. It includes all the critical elements of security that most medium-size companies need, including McAfee's award-winning security for endpoints, email, web, and data. Compared with the alternative of purchasing and maintaining multiple security products from multiple vendors, McAfee Total Protection for Secure Business saves you time, saves you money, and gives you a stronger defense against the threats you know about-and the threats you can't see coming.
Software Details
License + 1 Year Gold Support
federal
level G (1001-2000)
English
AES-256
1 node
Protect Plus
Win
RC5
View Tech Specs