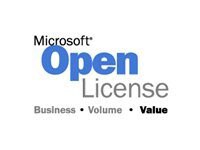 Know your gear
Office Professional Plus helps you and your organization work more efficiently and effectively with a new set of powerful tools for creating, managing, analyzing, and sharing information. Its user interface makes Office Professional Plus easier to use, and its graphics capabilities make creating great-looking, high-impact documents a snap. Office Professional Plus - it's all about helping you deliver better results faster.

MICROSOFT OPEN VALUE SUBSCRIPTION OPTION

With the Subscription option, you pay a single price per desktop (five desktop minimum) to deploy Microsoft technology as the standard across your organization, just as with the Company-wide option. However, the Subscription option provides you with rights to run the software only during the term of the agreement with Microsoft (nonperpetual).

SOFTWARE ASSURANCE

Microsoft's Software Assurance gives you automatic access to new technology and provides productivity benefits, support, tools, and training to help deploy and use software efficiently.

With Software Assurance, you receive access to new versions of licensed software released during the term of your agreement to deploy at your own pace. New Version Rights simplifies the procurement process and shortens the business process cycle, allowing you to reduce the costs associated with acquiring new version releases and immediately take advantage of the latest technology.
Software Details
1 PC
Enterprise
level F
Win
academic
Open Value Subscription
annual fee
All Languages
View Tech Specs