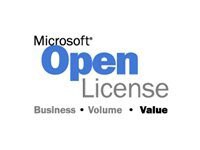 Software Details
Software assurance
charity
additional product
Win
1 user CAL
Open Value
1 Year Acquired Year 3
Single Language
View Tech Specs
Know your gear
Microsoft SharePoint Server is the business collaboration platform for the Enterprise and the Web that enables you to connect and empower people through an integrated set of rich features. Whether deployed on-premise or as a hosted service, SharePoint Server helps you cut costs with a unified infrastructure while allowing you to rapidly respond to your business needs.

The capabilities of SharePoint work together to help your company quickly respond to changing business needs. Using SharePoint, your people can share ideas and expertise, create custom solutions for specific needs, and find the right business information to make better decisions. For IT, SharePoint helps you cut training and maintenance costs, save time and effort, and focus on higher business priorities.

For organizations looking to expand their business collaboration platform to enable advanced scenarios, use the Enterprise capabilities of SharePoint to fully interoperate with external line-of-business applications, Web services, and Microsoft Office client applications; make better decisions with rich data visualization, dashboards, and advanced analytics; and build robust forms and workflow-based solutions.