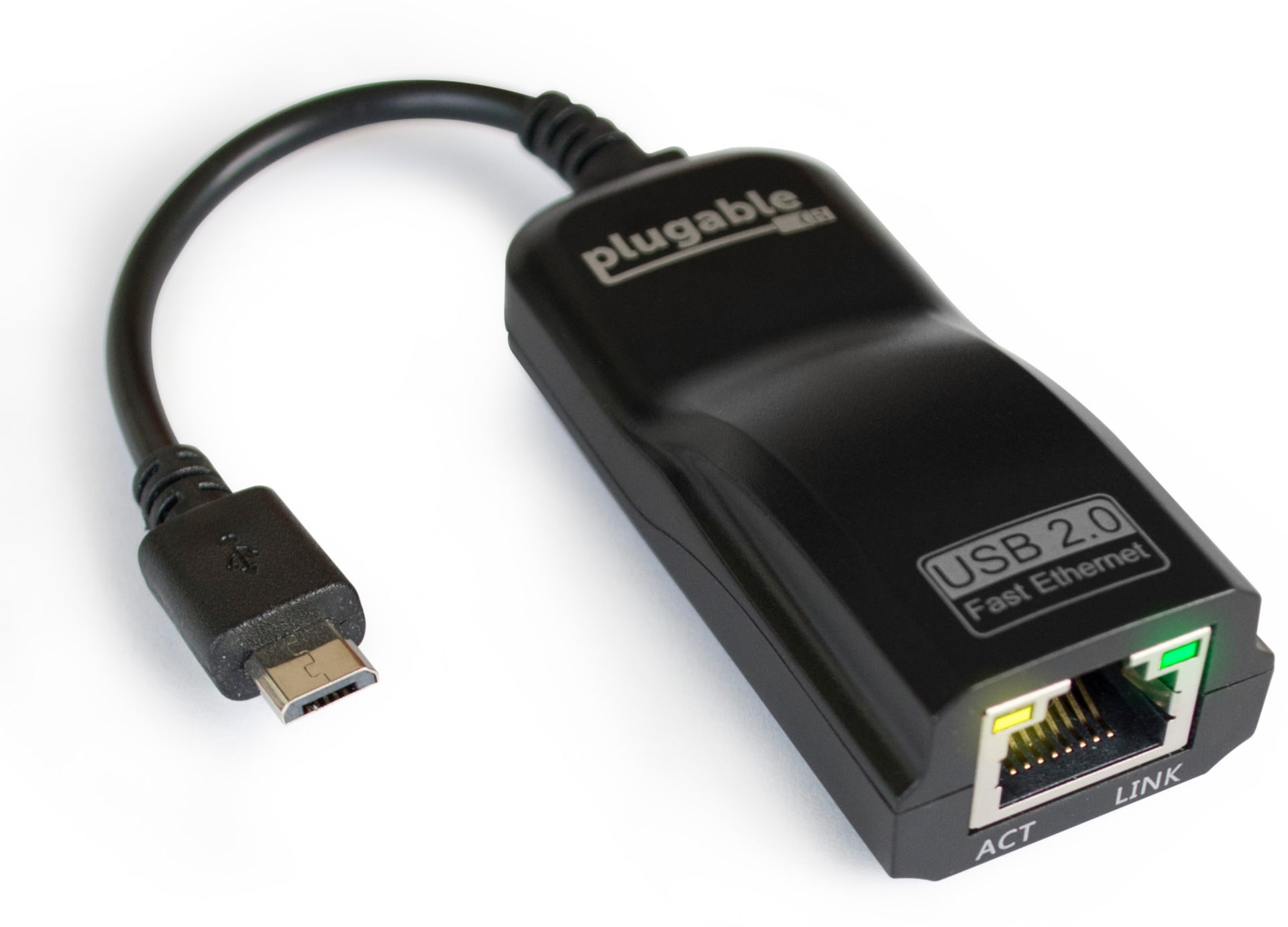 Quick tech specs
Fast Ethernet connectivity for Windows tablets and Raspberry Pi Zero
Limited compatibility with Android devices,check compatibility before purchasing
Backed by Plugable's Seattle-based support team,2-year limited warranty
Full 10/100 Mbps Fast Ethernet performance over USB 20
Not compatible with Windows phones,Amazon,LG,or Apple iOS devices
View All
Know your gear
Features faster-than-wireless speeds and easy connectivity. The Plugable USB 2.0 OTG Micro-B to 10/100 Ethernet Adapter adds a Fast Ethernet (RJ45) capable port to any system has a Micro-B USB port, OTG support, and built-in drivers. No separate OTG cable is needed.

This adapter has a USB 2.0 male Micro-B connector to the tablet and a RJ45 female connector to the network. It uses the ASIX AX88772 chipset for widest possible compatibility, including support built in to Windows 8 and higher and Linux versions. The unit features a compact external design. Two LEDs to monitor data and link activity. Powered by USB (no external power adapter needed). Notes: If your computer or tablet has a full-sized USB port but not a micro-B USB port, please consider using Plugable USB2-E100 Ethernet adapter instead.

Compatibility Drivers are built-in to Windows 10 and 8.x tablets with a Micro-B OTG port. This adapter is compatible with Raspberry Pi Zero running the Raspbian Jessie OS. Not compatible with Apple, Amazon, HTC & LG tablets and phones.

Performance Wired Ethernet via this adapter provides faster and more reliable network access than typical 802.11 wireless networking (up to 2-3x as fast). Particularly helpful for web video, downloads, and streaming.