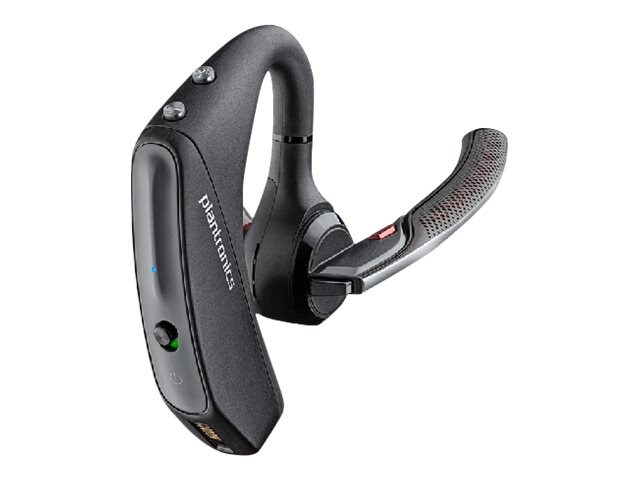 Quick tech specs
over-the-ear mount
wireless
View All
Know your gear
The Plantronics Voyager 5200 WindSmart Noise Cancelling Bluetooth Headset offers reliable call clarity especially outdoors as well as cutting edge, adaptive noise cancelling. With six layers of WindSmart technology, this headset eliminates disruptive background noise like wind and chatter to make voices sound clear, indoors and out. A rigorously tested, ergonomic design ensures all-day comfort, from the first call of the day to the last. Its 2-in-1 red button easily activates Siri, Google Now or Cortana. Whispered alerts update users on talk time and even announce the names of incoming callers so they can simply say "Answer" or "Ignore" to calls without lifting a finger. It features a smart sensor that automatically detects whether or not it's being worn, directing call audio where users expect to hear it. This headset has a sweatproof nano-coating that protects it against sweat and water splashes (IPX4).
Plantronics Voyager 5200 - headset
is rated
3.83
out of
5
by
436
.
Rated

5

out of

5
by
TechMac
from
It Absolutely the Best Mobile Over Ear Headsets
Communicating with anyone on a call is second to none! Sound quality on both ends are as perfect as it can get. Even with car windows down! I have tried all the top rated ear headsets. If call quality is your priority this is the headset to get. As for listening to audio it is good but not amazing! Sounds good is very acceptable. Clear & accurate sound. I do wish Plantronics had a headset this good in the ear bud form factor with the same call quality and better music sound. There are great sounding earbuds on the market but their call quality is really bad in open spaces. Since call quality is my 1st priority I have to keep using my 5220's. Nothing compares to their call quality. : )
Date published: 2019-05-06T00:00:00-04:00
Rated

5

out of

5
by
Reid FEEDS
from
thumbs up
good quality sound and battery life, works well with iPhone!
Date published: 2019-05-28T00:00:00-04:00
Rated

5

out of

5
by
Trucker Chris
from
Clear, comfortable and reliable.
I've used Plantronics since the 520. As a truck driver, I've also used and tested just about every blue tooth headset out there. I bought the 5200 roughly 1-1/2 years ago and really love it! It's so lightweight and comfortable I often forget I'm wearing it. The call clarity is superb at both ends and the features are second to none. I'm very high tech and committed to completely "Hands Free" driving. The 5200 in conjunction with my dash mounted smartphone fits the bill Perfectly!! With the aid of a couple small apps on my phone, I don't touch anything to make or receive calls. Text messages are read to me and I can reply by voice alone. I can access ALL my "trucker apps" with simple voice commands. I'd recommend this to anyone looking for a blue tooth in general but Especially if "hands free" is important to you. I only wish there were more size options for the ear tips but it's not a deal killer by any means. This one is still going strong but should it ever fail, I will not hesitate to buy another. Very Satisfied!!
Date published: 2019-01-13T00:00:00-05:00
Rated

5

out of

5
by
Reza
from
Doesnt perform as claimed
Nothing as claimed it true. Windnoise comes in. Surrounding people talking. And the worst thing is that my voice is breaking up, lagging, or sounding distant. A catastrophe. Lousy speaker quality, also, the earpieces comes in 3 sizes but even the smallest is too big.
Date published: 2017-06-07T00:00:00-04:00
Rated

5

out of

5
by
chrised
from
Keep your money
I bought the 5200 because I liked my Legend so much. My biggest gripe with it is that it only charges when it wants to.
Date published: 2018-07-09T00:00:00-04:00
Rated

5

out of

5
by
SammyG
from
Unique
Bought this a few days ago the sound the quality is great plus all the other options you have it is a remarkable headphone and for the size it's very comfortable you hardly notice it.plantronics is a great brand keep up the good work.Thank you
Date published: 2017-01-20T00:00:00-05:00
Rated

5

out of

5
by
damieno671
from
Better sound and stylish
I have owned the previous versions of the Voyager and I liked each version. I just got my first smartphone and I wanted the new Voyager 5200 to pair witth my phone. The sound is much more clearer. I like the all black color.
Date published: 2016-11-21T00:00:00-05:00
Rated

5

out of

5
by
busyphone
from
Good features
My Voyager Legend fell apart after almost 2 years. This product is too, too fat behind the ear. The Legend was much more comfortable. However, this product has done away with the problematic fabric ear piece cover. That's a plus. Yet this product is not as comfortable to wear as the Legend. I'm constantly readjusting it for a better more comfy fit. In addition the aural prompts are not soothing as the aural prompts on the Legend. And it costs more
Date published: 2016-12-20T00:00:00-05:00
Rated

5

out of

5
by
moskeyto
from
Great Device-Why get rid of magnetic snap-fit?
I have had this device for about a month and I am very happy with the sound reception and transmission. I am not very happy that Plantronics decided to get rid of the magnetic snap-fit connector in favor of microusb or a charge case. I had a Legend before that. It had the magnetic snap-fit connector and it worked great. There is a magnetic snap-fit connector on the 5200 but it doesn't fit the old Legend magnetic snap-fit connector. Going back to obsolete microusb was not necessary in my view.
Date published: 2018-11-14T00:00:00-05:00
Rated

5

out of

5
by
DougM
from
Best wind noise reduction of any
I have had the 5200 for about 4 months now and it is the best bar none for wind noise reduction. I can carry on a conversation while riding a bike at 20 mph. At 25 it starts to get a bit noisy on the far end. Voice quality is otherwise excellent and predictable. Distance is only good to about 30 feet, but that is probably as much the fault of the phone too. I also recently acquired the Apple AirPods and although they sound good indoors, they are terrible in even a mild breeze. They are on my desk at home and the 5200 is in my pocket. Plantronics has been about wireless technology for a long time, apple is just getting started.
Date published: 2017-02-23T00:00:00-05:00