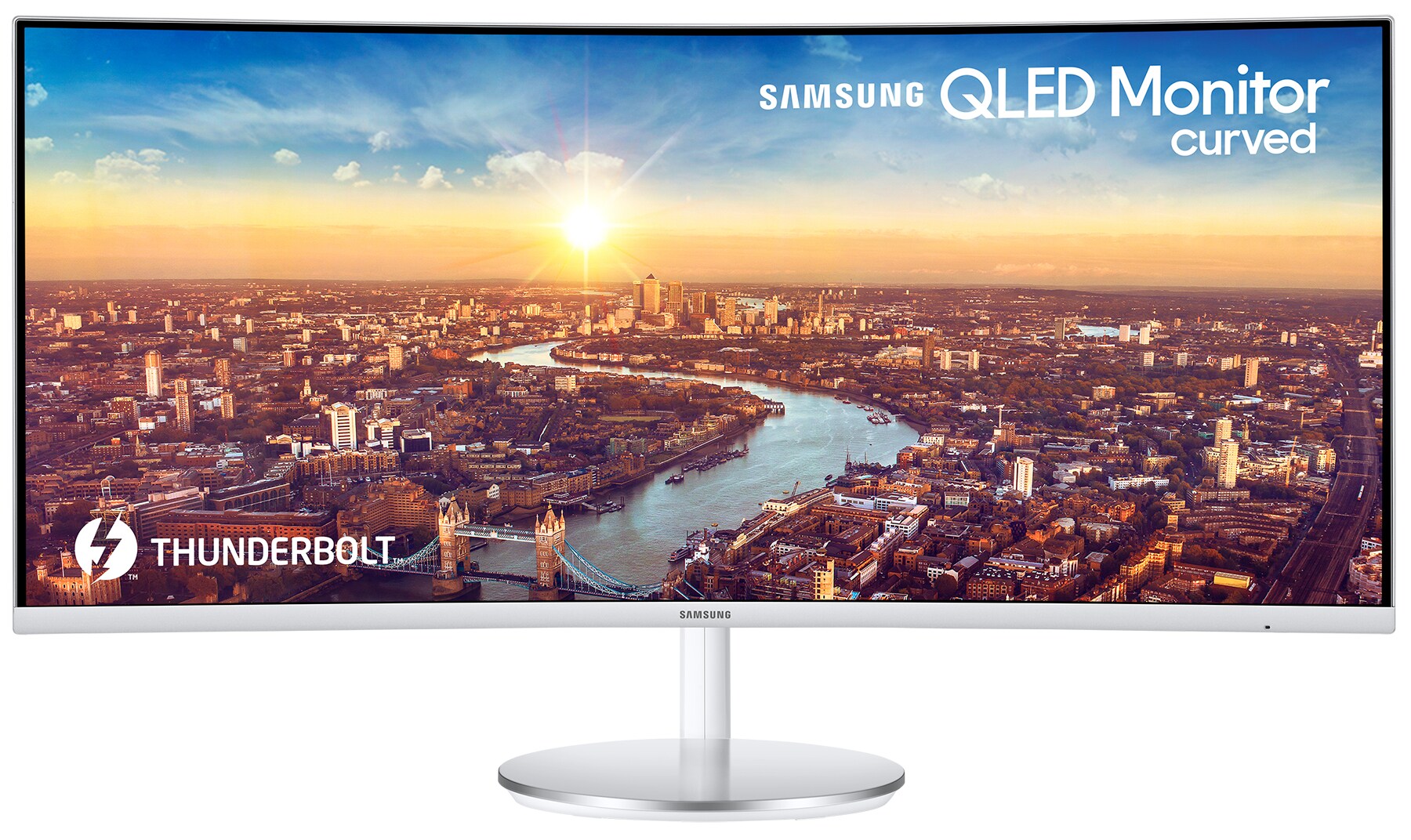 Quick tech specs
QLED monitor
34"
Curved
Nominal voltage rating of AC 120/230 V
Samsung 1-year limited warranty
Includes HDMI and Thunderbolt 3 USB-C cable
Ultra-wide
QLED
Consumes 180 watts
View All
Know your gear
Improve your business media viewing experience using the Samsung® 34" CJ791 Thunderbolt™ 3 UltraWide Screen Curved Monitor. It features QLED technology for the production of crisp visuals. With a curved layout, this 34-inch ultra-wide monitor offers immersive views. Its WQHD resolution delivers fine detail and lifelike colors. The Samsung C34J791WTN CJ79 Series QLED monitor has two Thunderbolt 3 ports that allow the transmission of data and power through a single interface. Its TBT3 interfaces provide data transfer speeds of up to 40 Gbps, which increased productivity. Through its USB-C® port and HDMI® interface, you can enjoy plug-and-play connectivity.

This monitor has a built-in USB 2.0 hub that lets you charge portable devices while working. Its DisplayPort™ supports daisy chain functionality to reduce unsightly cord clutter. The Samsung QLED curved monitor has a nominal voltage rating of AC 120/230 V and an operational consumption power rating of 180 watts. It comes with an HDMI and Thunderbolt 3 USB-C cable. This product has the backing of a Samsung 1-year limited warranty.
Samsung C34J791WTN - CJ79 Series - QLED monitor - curved - 34"
is rated
3.19
out of
5
by
43
.
Rated

5

out of

5
by
chazh
from
Decent quality monitor, with flaws
there are a few annoying things, the monitor wobbles with slight touch, the control button is on the back and far right side, the menus are annoying to navigate to get to simple features. the monitor is unusable for about 10-12 seconds after waking due to time to stablize and stop flashing. wanted to fix some of the fw issues, and update the monitor. i saw that 1007 was available, & followed the samsung instructions. i did them 40+ times with multiple usb flash drives, a hd, multiple fat32 formats, etc., nothing worked. i called support 5 times, & read online reviews. support said they have a ticket for this, & i should talk to the vendor i purchased it from, or ship it back to samsung for 3 weeks, on their bill. would have written more about the pros, but have only 800 chars max.
Date published: 2021-02-27T00:00:00-05:00
Rated

5

out of

5
by
Chloe chan
from
Great monitor but big disappointment
it was great, love the style, sound, picture, and features. but then all of a sudden during a conference call the screen went black with a loud pop noise. i am returning it and getting the same one with a price match as i should get.
Date published: 2021-01-12T00:00:00-05:00
Rated

5

out of

5
by
Javier
from
Gorgeous colors, Thunderbolt 3/USB-C connectivity
disclaimer: i acquired two of these monitors with an employee discount; nevertheless, the review is objective and centered on my personal experience. pluses: * great connectivity options (2 t3/usb-c ports, hdmi, dpi) * can charge laptop with up to 85w, another device up to 15w * thunderbolt 3/usb-c port can double as a hub * great color, amd freesync * decent speakers * thunderbolt 3 cable and high-speed hdmi included * vesa metal plate included minuses: * iit tilts. 5 degrees or more, translates to about 1/2 inch; have tried a clip on the back to no avail. * sound cannot be controlled with a mac (apparently cec support on the mac)
Date published: 2021-01-12T00:00:00-05:00
Rated

5

out of

5
by
velocitys3
from
A Perfect Mac Mini Display
i've had no issues, excellent display, perfect for my mac mini, utilizing thunderbolt and which needs a better audio source. only minor downside is the volume control, which is not controllable via the os, but the picture, responsiveness, and perfect size/curvature make this worth the price. i wanna see a newer thunderbolt model to go with the new m1 mac minis.
Date published: 2020-12-08T00:00:00-05:00
Rated

5

out of

5
by
Concerned Buyer
from
Dead Pixel Issues
within 3 months of purchasing this monitor, a cluster of dead pixels appeared on the screen (shown in the accompanying images with pink background). it was sent in for warranty, and the panel was changed, but upon receiving it back, the "fixed" monitor had even more dead pixels, albeit they were more dispersed (shown in images with white background). there are some serious quality issues here, and i hope that samsung fixes my product this time around. buyers beware.
Date published: 2021-02-17T00:00:00-05:00
Rated

5

out of

5
by
tron
from
usb-ports stopped working on two monitors
usb-a ports stopped working after 3 weeks on the first monitor. received an exchange and day 1 the usb-a ports weren't working.
Date published: 2021-02-15T00:00:00-05:00
Rated

5

out of

5
by
SamsungUser
from
Doesn't work with Dex
i bought this monitor because it included the usb-c port so that i could use it with my note 10+. i was sad to find out that for some reason the usb-c port doesn't work with the note 10+. my $1100 dollar phone and my $700 dollar monitor (both samsung) don't function together. dex works just fine on any other brand of monitor and non samsung devices work with the cj791 monitor. the monitor looks really nice, it works well with a computer, but i would not recommend it to anyone who is planning to use samsung dex.
Date published: 2021-02-02T00:00:00-05:00
Rated

5

out of

5
by
Haq51
from
34" CJ791 Thunderbolt Monitor
the sharpness is not as good as other monitors available less than samsung price rang.
Date published: 2021-01-31T00:00:00-05:00
Rated

5

out of

5
by
Brian1G
from
Good Monitor but Not a great for Mac users
I was looking for a less costly version to the goto Apple compatible displays and don't really need 5K, so thought I would give this monitor a try. I am pleased with the picture quality & picture performance, but unfortunately that is where it ends. The good: Picture Quality for a non-5K display is good Curved screen is much better than I had anticipated The USB hub built into the display gives me options to plug in my other Apple Devices The not so good: No Volume Control from MacOS using Thunderbolt (just crazy) Doesn't provide ability to control any display settings from MacOS like the other manufacturer (such as brightness and volume) Joystick control is not in a very convenient to reach place and you have to use it to do anything with this monitor (another dig on the fact you can't adjust anything via MacOS) After using this monitor for a few weeks, I have ordered the 5K display from Apple as I just really miss: Volume Control Brightness Control Automatic Dimming Built-In Camera If you use your own speakers, don't need a camera, really don't want to spend the money on a 5K display & don't think you will need to adjust brightness or have MacOS automatically dim, then this could be a good monitor for you.
Date published: 2019-08-12T00:00:00-04:00
Rated

5

out of

5
by
wips
from
Display is great, USB ports not working on Win 7
I did buy this monitor mainly because of it's thunderbolt support and ability to connect pheripherals. When it comes to the display itself, it is awesome, it is a huge productivity boost. I am using Dell Precision 7520 workstation, having all drivers up to date, but windows cannot find the drivers for the usb controller.However, everything works with Macbook Pro computer, so the problem is not in the hardware. I managed to have chat over an hour online with Samsung support. It was surely very polite discussion but useless, since i got the same questions over and over again, like which cable am I using. I requested to have a contact with technical support which was simply ignored. Now I tried to send an email from the website and it is impossible! After filling the form the response is "no session". Let's see if the review goes through. If I'm not getting the solution to the problem, I'll return the product.
Date published: 2019-08-10T00:00:00-04:00
Rated

5

out of

5
by
ChrisB
from
Love Wide Monitors, But Not This One
it was lovely for samsung to ask for product experience feedback on the same day i spent 45 minutes on hold with the samsung warranty dept. i've experienced the following issues: 1) the monitor occasionally will emit loud, sickening electrical popping sounds akin to electricity arcing between electrodes. 2) the usb-c connection sporadically doesn't work. the screen drops out and goes black 3) the monitor is wobbly. it shakes with the smallest nudge. i bought this monitor based on brand loyalty. i recommended it to 3 friends. one friend purchased it as well. regret. the monitor was sent shipped back for repair. let's see is samsung can make this right.
Date published: 2020-08-26T00:00:00-04:00
Rated

5

out of

5
by
JUSTIN MARINOVICH
from
Thunderbolt port stopped working after 2 weeks
great monitor (size, look, etc.), but for this price it should be 100% reliable... and it was not. after two weeks of use the thunderbolt port failed to display picture and audio. now i have to deal with a repair process that is not user friendly.
Date published: 2020-07-30T00:00:00-04:00
Rated

5

out of

5
by
MADD1
from
AWESOME VIRTUAL SETUP
perfect monitor, relatively small footprint. features hdmi, displayport, usbs, usb-c so you can run just about any new system currently available. energy saving features and the picture-n-picture and picture-by-picture are phenomal. charges my mac and beats headphones, the extra ports making adding peripherals a breeze. looking to get one more since its vesa compatible and add it to a two monitor mount.
Date published: 2020-08-14T00:00:00-04:00
Rated

5

out of

5
by
Nick F
from
Unbelievable.
Made my decision almost entirely based on the brand loyalty. Bought this CJ791 from nationwide retailer. It came in the CJ791 box. Manufacturer's label reads CJ791. Except it is CF791, based on both ports and what says inside the "menu=>information". Manufacturer's label shows no signs of manipulation. Had a great time returning it in. And you complain about a dead pixel. Quality, huh?
Date published: 2020-01-03T00:00:00-05:00
Rated

5

out of

5
by
Michael
from
A great monitor
there is so much i enjoy about this monitor. the only downfall is the lack of programs that use it's resolution to the fullest extent. the crisp, clean lines and incredible refresh speed make up for the other thing. a must-have with any computer!
Date published: 2020-06-26T00:00:00-04:00
Rated

5

out of

5
by
SkiBum
from
So much better than dual Monitors
After using dual monitors for the past 10+ years I made the change to the CJ791...absolutely no regrets. Running a MacBook Pro and connected via thunderbolt. Awesome resolution, definitely increases productivity, more screen space and no bezel in the middle.
Date published: 2020-04-21T00:00:00-04:00
Rated

5

out of

5
by
Paulo
from
Excellent Quality. Docking station not working.
The screen has excellent quality, you wont be disappointed. However i'm having issues with the docking station. With works with my Dell G5, after installing all drivers. Still not working with my HP X360.
Date published: 2020-04-07T00:00:00-04:00
Rated

5

out of

5
by
Owner of a monitor
from
Monitor tilts due to slack in joint with arm
First, I really enjoy this monitor. I can't see myself ever going back to a non-curved monitor. That said, my problem is that the monitor tilts to the right by 1/2" to 3/4". I placed a paperclip in the joint where the arm attaches to the back. It's now level. [I had returned one other with the same issue, so the issue must not be a one off. Btw, my desktop is level, I checked].
Date published: 2020-02-16T00:00:00-05:00
Rated

5

out of

5
by
Munder
from
USB-C Hub is fried
my mac can not maintain a connection to the display. so i'll be working on something and in the middle of s sentence the screen goes black.... and then it back... and then it's gone. all. day. long. terrible customer support and the item is so big that i think i've officially wasted $700.
Date published: 2020-06-15T00:00:00-04:00
Rated

5

out of

5
by
VLADISLAV KOLLEROV
from
Amazing monitor
i love it. i have 2 4k dells at work, and this one i'm using at home. games/work. wide angle view - like in the cinemas. and for work, this setup is working better than just 2 monitors.
Date published: 2020-07-03T00:00:00-04:00
Rated

5

out of

5
by
JT2019
from
Not for Mac users
This is what I consider the "middle ground" for those wanting a sub-4K resolution but decent refresh and response rate for gaming. Unfortunately, the resolution just doesn't quite meet my expectations and this becomes immediately apparent when dragging content from the retina (MacBook Pro) display over to the CJ791; the text is pixilated. My experience with the monitor ended up straining my eyes.
Date published: 2019-12-04T00:00:00-05:00
Rated

5

out of

5
by
James
from
Very bad quality control
Just as many other reviewed. This monitor has very poor workmanship. The monitor came with panel detached from the bezel on the top. The LED light shines through the gap directly. There are also a few dead pixels here and there. I like the features it provides, especially the thunderbolt 3 interface. However, it failed in a very important aspect, the quality. Will have to return it. Buyer beware!
Date published: 2019-12-03T00:00:00-05:00
Rated

5

out of

5
by
Stephen
from
Broken bezel, lacking support
this is my third time to try to submit a review. for whatever reason, samsung won't post my review. i purchased directly from samsung. after a few months, a quarter inch piece of plastic broke off the front of the bezel on the lower right corner. samsung says they don't cover cosmetic issues which is disappointing as it would be a cheap fix and the monitor was so expensive. the monitor seems to work fine otherwise.
Date published: 2020-06-29T00:00:00-04:00
Rated

5

out of

5
by
BluAgave
from
great monitor
i replaced 2 27-inch monitors with this one and am very glad that i did. it helped to declutter my smallish desk and still enables me to have multiple windows open at once, everything from photoshop to excel. i use this monitor to work from home right now during the pandemic and to post-process photos in lightroom on weekends. the monitor is very sharp, text is clear and images are rendered beautifully. i recommend this monitor to anyone needing a large but compact screen. the monitor is also very attractive; sleek and curved without a lot of messy cords.
Date published: 2020-09-20T00:00:00-04:00
Rated

5

out of

5
by
Zacharaia
from
Audio stopped working after 60 days
I would have loved everything about this monitor, had it worked like it was supposed to. After just a month and a half or so, the audio port doesn't work anymore. I called Samsung support and my only option was to send it in for a repair, which could take weeks. I wouldn't even know how to safely ship this thing, it's huge! Also, I can't afford multiple weeks of down time, as I use this as my main workstation monitor.
Date published: 2019-06-15T00:00:00-04:00
Rated

5

out of

5
by
OhioMom740
from
Gamers Dream
If you are a PC gamer, this is required. Previously I used the ASUS VG248QE dual set up. On comes the CJ791 Thunderbolt?? and knocks the Asus out of the game literally. No lag time or missing a kill because you didn't refresh quickly enough. The size provides a continuous visual versus broken up between the two monitors. Such a powerful experience with the best coloring for graphics. One monitor to replace the dual setup is more conducive to the gaming experience and PIP allows me to stream Twitch simultaneous. The sound quality does not miss. I typically use my SteelSeries headphones while gaming to enhance the sound. I can now go without those and receive the same effect. This monitor takes the win over any gaming monitor out there. Surely a necessity if you love PC gaming.
Date published: 2018-12-14T00:00:00-05:00
Rated

5

out of

5
by
Michi9271
from
Perfect to replace/add to a multi screen setup!
Recently I had the opportunity to purchase and try this monitor and receive a big rebate for my review. I was using a multi monitor setup prior to installing this monitor. Once installed I was able to use just this monitor in split screen mode. The picture is incredible. There is no angle that you can look at the screen and not have a perfect picture. I do 90% of my work online and resolution is key. The clarity and visibility has enabled me to increase my accuracy. Instead of having to turn to look at different screens, or accidentally losing the mouse when shifting between different monitors, I am able to seamlessly flow to any location and not but shift my eyes and still view everything. Is as though a regular flat screen monitor was rotating with your line of site. I would recommend this to anyone in a technical field and even to gamers who are looking for a great viewing area that is seamless. #SamsungMonitorInsiders
Date published: 2018-12-15T00:00:00-05:00
Rated

5

out of

5
by
very ken
from
Good But No Auto Brightness for Mac
Maybe I'm too spoiled as a Mac user. There's no built-in camera, okay no problem. But no auto brightness either. Not even keyboard brightness control. This means having to reach back to the tiny joystick and navigating several menus every day. And I'm running two of these side-by-side with a 2018 Mac mini, so that's double the physical fiddling every morning and night, once on the left, then again on the right. As for performance, so far so good, but there's a lag when booting up, even when using Apple's expensive 0.8M active Thunderbolt 3 cable. No built-in microphone, either. Otherwise it's pretty good as an adapted PC display.
Date published: 2019-01-20T00:00:00-05:00
Rated

5

out of

5
by
skoti
from
Just perfect
One of the best designs around, the blacks are deep and colors are vibrant.
Date published: 2018-12-11T00:00:00-05:00
Rated

5

out of

5
by
JelloKing
from
Cant change sources between TB3 Ports
I have had this monitor for nearly two weeks. Overall I love it! The picture is good, nice contrast and great response even for gaming. The size, resolution and aspect ratio combine wonderfully allowing your productivity to increase over similar 16:9 screens. There are two major negatives that I can't get over and a couple of other small glitches as well. 1.) You switch sources between the TB3 inputs on the monitor. This is my biggest annoyance. I have a macbook pro with tb3 and a razer laptop with tb3 and there is no easy way of switching between the input sources. I have to power cycle the monitor and turn off the device that I don't want to use. You also cannot do PIP between the two TB3 ports which well...thats annoying. 2.) Samsung made the poor decision to not have a dedicated power button. It takes 3 button presses to turn off the screen. Can't understand the thought process here it's really frustrating especially when I have to constantly power cycle the monitor due to the first problem I have with this monitor. One minor issue - depending on the frequency you do it - it takes a good 15-20 seconds to switch inputs Lastly the built in USB hub sometimes doesn't power on the devices plugged in (i only have a keyboard/mouse attached). When this happens you may have to unplug and plug back in your peripherals or turn off the monitor, unplug everything, turn the monitor back on and then plug everything back in. All of these problems were identical across two different monitors, my first was exchanged due to a faulty OSD joystick controller.
Date published: 2019-04-06T00:00:00-04:00
Rated

5

out of

5
by
Minkmiko
from
The Thunderbolt 3 widescreen monitor You need
I was very interested in this monitor, because I have a Razer Blade 15" 2017. For those not familiar, that is a gaming laptop with a Thunderbolt 3 port. As soon as I turned it on I just had to click ok for a pop up for the Thunderbolt 3 and the monitor showed up right away. Essentially I can have three screens by cutting the Samsung monitor in half and keeping my laptop on. This is a productivity monster. The QLed was another component I was interested in and boy does it have a bright crisp color on the screen. I do not own a MacBook with a thunderbolt 3 port, but I can say with certain that it works without a hitch and is a must buy for those on the market for a widescreen monitor with thunderbolt 3 windows PC.
Date published: 2018-12-06T00:00:00-05:00
Rated

5

out of

5
by
Andy85
from
Arrived with a Broken Frame - Poor Support
Arrived with a broken upper right corner on the frame. The box was undamaged. I wasn't able to open until 18 days after I received the monitor due to holiday travel and a hectic work schedule. Support stated there was a 15 day return period even though Shop Samsung's website says 30 days. I am in the process of speaking with support about obtaining a warranty replacement. I cannot comment on the quality of this particular monitor's picture because I am afraid of powering up a Samsung product with this poor level of quality control. Packaging is 3x bigger than a similar 32 inch model with plenty of styrofoam for protection. Samsung must not quality control their products or just don't care about customer experience. I was affected by the Note7 debacle and thought their support had greatly improved.
Date published: 2018-12-16T00:00:00-05:00
Rated

5

out of

5
by
Ikancu2
from
A Beautiful Monitor
Beautiful. This monitor is absolutely beautiful. From the moment you unpack it till you finish using it for the day, this is just a gorgeous piece of equipment. Positives: - Amazing to look at… even when off - No eye strain, even after a 10 hours of constant use - Great connection options - Fast refresh times - Excellent resolution - Curved Negatives: - Back cover for cord management is flimsy - Expensive This monitor replaced two IPS 19'' monitors. When using those, I had noticed that I could not sit in front of them for a long time; but with this Samsung monitor, I can spend an inordinate amount of time without any eye strain or feeling uncomfortable. While a curved TV seems like a gimmick, using a curved monitor is absolutely amazing. You sit close enough in front of the monitor that having a curved screen actually seems to "envelop" your view. The colors are comparable to the older IPS monitors, but the single wide screen monitor really makes everything immersive as there is no "break" in content. The biggest negative that I could find is the price. This is an expensive product, no way around it. The other minor quibble is that in order to "hide" the power and connection cord in the back of the monitor, the back plastic plate is really flimsy and can easily fall out as there isn't a locking / snapping mechanism. Fortunately, once set, this becomes a moot point. I recommend this for anyone looking for a top of the line monitor.
Date published: 2018-12-18T00:00:00-05:00
Rated

5

out of

5
by
skarr8888
from
Samsung Monitor with thunderbolt ports for the win
An ultra wide monitor with thunderbolt ports from Samsung?? What more can you ask for! I was surprised with how huge the box was when this flagship monitor came in. I felt like I ordered a new television. The ultrawide 34" screen makes you feel immersed as you watch movies or play games 21:9. I also love the sound quality this monitor makes. It almost felt like a surround sound system and I was amazed as how great the stock speakers were. Some specs of the CJ791 is that it has a refresh rate of 100hz, 4ms response time, 3440x1440 screen resolution, and a contrast ratio of 3000:1. Although it isn't an IPS monitor, the QLED technology covers more than 125% of the sRGB color space making it a great monitor for video editing as well. It's a productivity monster when I used Adobe Premeire for video editing. I could fit the whole time onscreen and then some! The CJ791 also comes with AMD free sync and a game mode optimizing responsiveness and screen lag. The thunderbolt connections take the win for this monitor giving it the crown for one of the first monitors from Samsung with this connectivity. It can transmit video and data at speeds of up to 40Gbps — 8 times faster than USB 3.0 — and simultaneously charges devices (up to 85W, all over a single cable. Thanks to the Insiders for letting me test out another great product from Samsung!
Date published: 2018-12-01T00:00:00-05:00
Rated

5

out of

5
by
Sed1020
from
Excellent Quality & Performance
Best monitor on the market! The CJ791 Thunderbolt 3 Ultra-Wide Screen Curved Monitor is cutting edge, equipped with the latest and greatest technology. All in sleek slim design, that if very functional and easily the most unique & stylish item in my home . The screen resolution very vivid , which makes entertainment and productivity a lot more engaging with the ultra fast graphics and performance. No matter what you are doing rather you are casually browsing the or if your professional editing photo , all tasks become more intuitive. Seriously one of best , if not the best monitor on the market, absolutely recommend to anyone looking to increase productivity! I am writing this review as part of the Insiders program.
Date published: 2018-12-12T00:00:00-05:00
Rated

5

out of

5
by
ATLian
from
No docking station required
I have had this monitor for 2 weeks now and it is amazing. First, it is like having two monitors in one but it takes up very little desktop space. The curved screen is ideal for this set up, a similar effect to having two monitors with each one angled toward the viewer. Second, the picture is amazing - I have never had a high-quality picture for a computer monitor since I use it mostly for work but the 4k definitely is easier on the eyes. My kids have even watched some movies on it and love it! Third, and probably the most amazing feature is the Thunderbolt connection. This means no docking station is required. My keyboard and mouse dongle and USB hub is plugged into the back of the monitor. Just one cable connected to my laptop and the monitor and it functions without a dock. It charges the laptop too. This makes it such a clean setup. I love this monitor and now thinking about getting one for my wife's office!
Date published: 2018-12-14T00:00:00-05:00
Rated

5

out of

5
by
PJAKS
from
Excellent monitor
I love this Monitor. Its Big and Beautiful. Thanks Samsung for another nice product.
Date published: 2018-11-25T00:00:00-05:00
Rated

5

out of

5
by
bmwsloy
from
Very underwhelming. Sent back.
I really wanted to love this monitor. It was a lot cheaper than the LG Thunderbolt 3 monitor. Unfortunately, there is a reason. First impressions were bad before setting it up. The plastic was separated off the back of the monitor. The front panel was not cleanly removed from the mold and had a bad spot in the corner of the lower bezel. Once I got it setup on my 2018 i9 MacBook Pro, I realized it had dirt behind the panel. So far, not impressed. After using it for an evening, I couldn't get over how washed out the colors were and the resolution definitely didn't do it for me compared to my Mac. I can understand the lack of resolution and knew this going into it, but the colors killed me. No finding with adjustments could make it better. After a week of it, I sent it back to Amazon. Sorry Samsung. I have a lot of your TVs that I love, but this monitor left me wanting a LOT more.
Date published: 2019-01-18T00:00:00-05:00
Rated

5

out of

5
by
indira88
from
Productivity king!
As soon as I removed the monitor from the box and placed it on my desk I was in awe. The space you get with this screen is overwhelming and the design is simply marvelous. One of my favorite things of the design is being able to hide the cables through the stand on the back. The curved screen design looks amazing and the whole monitor is surprisingly light in weight. Now to the real deal.. turning it on! This monitor packs an amazing quality in a huge curved ultra-wide screen. The curve is in fact very easy in the eyes. I spent about 8-9 hours with it in one go and felt no real stress on my eyes. On top of that, the 21:9 ratio is productivity heaven. I usually work with two screens at work, but this changes the game completely. I can have 4 windows open on the screen and to interact with all of them at perfect quality and with enough space to get all my things done! I feel like I will be getting much more work done now that I have this screen and that's the main reason I bought it! I honestly cannot find any cons to this monitor. The PBP and PIP functions are also some of my favorite features. I currently have a work laptop and a personal laptop and being able to project both screens in one removes the hassle from having to switch from looking at two different screens. Samsung has outdone themselves with this monitor and I fully recommend this product to anyone that works on multiple projects, is a designer, or a gamer! (I am looking forward to downloading a game and playing on this screen very soon!)
Date published: 2018-11-23T00:00:00-05:00
Rated

5

out of

5
by
Java Coder
from
Beautiful but Flawed
The colors are vibrants and the design is gorgeous, it's not just marketing hype the curve is truly immersive. Unfortunately, my monitor developed a stuck pixel after less than a week of use. I disconnected the monitor for 12 hours and used software to attempt a fix; nothing worked. The stand was also tilted just slightly enough that the monitor never lined up straight. For $900 you're allowed to be extremely critical of the product. It is going to be returned and replaced with a different product until I conduct further research.
Date published: 2019-06-01T00:00:00-04:00
Rated

5

out of

5
by
JohnLA
from
A Worthy TB3 Monitor for Apple Users
I completely revamped my set up away from a 2017 MacBook Pro 13" to a 2018 Mac Mini. Although I had a Dell 4k monitor, a widescreen monitor was on my short wishlist for the new set up. Monitor is gorgeous aesthetically. Display quality is top notch and having a single cable connection via TB3 is a boon. Daisy chaining several TB3 devices was a must - Lacie 2Big RAID, BlackMagic external ECU - and this monitor works perfectly. Great for Final Cut Pro. Great for working with two documents, such as an Excel worksheet and a Powerpoint PPT alongside. Highly recommend this monitor!
Date published: 2018-12-23T00:00:00-05:00
Rated

5

out of

5
by
Michael
from
Great Monitor
from a gaming standpoint, this monitor has lived up to its name thunderbolt. the refresh rate and clarity software make it a truly awesome vision when paired with my nvidia graphics card.
Date published: 2021-02-26T00:00:00-05:00
Rated

5

out of

5
by
mbox1
from
Love the monitor but the screen flickers
Hi -- I bought this monitor because I love big screens but the connection with my MAC doesn't work properly. It constantly flickers and I have to take out the back panel to wedge it in the port . It still doesn't work. And the back panel is very difficult to put back on . So I wouldn't recommend this product . I don't know what to do to fix this anymore?
Date published: 2021-05-03T00:00:00-04:00