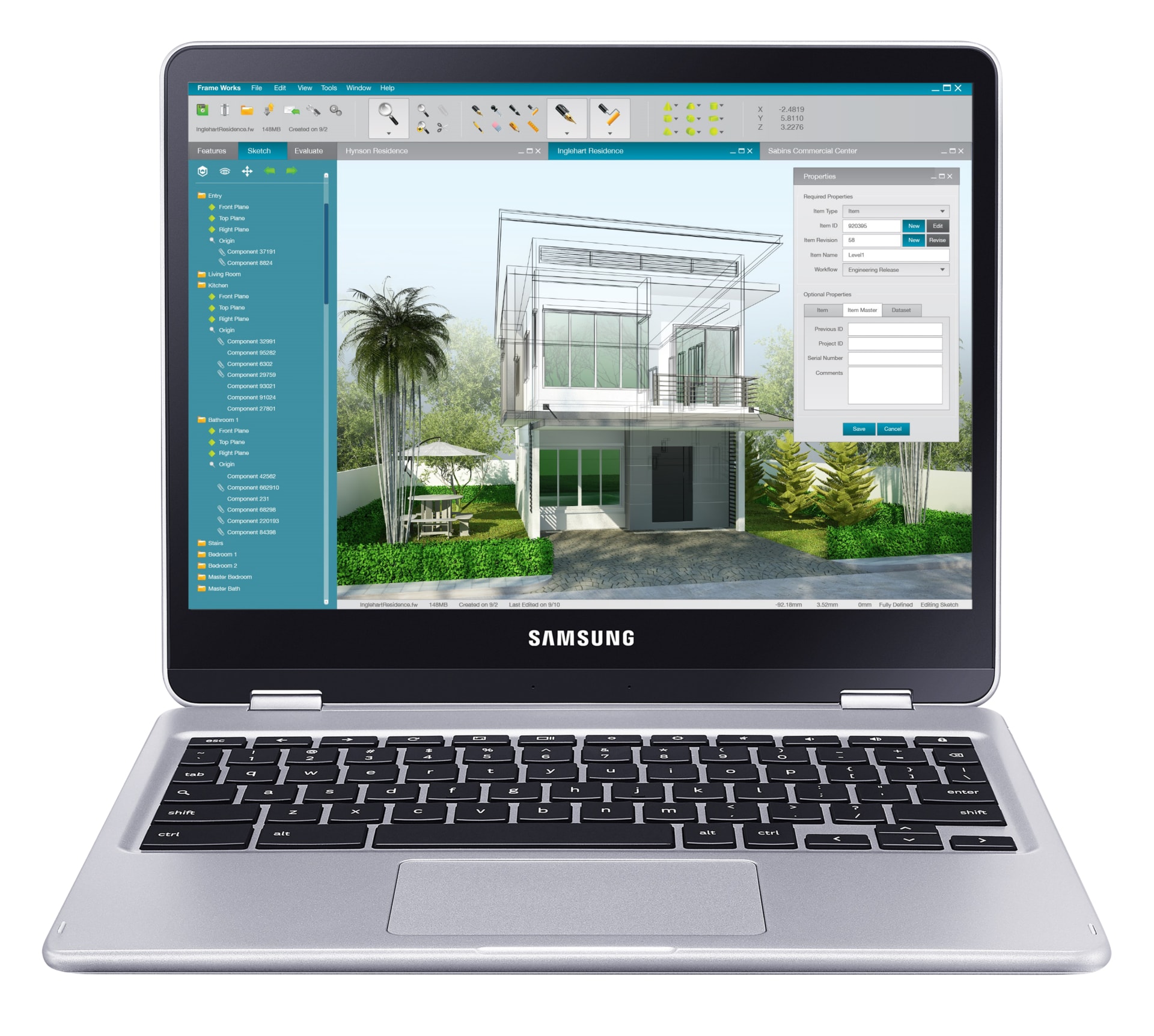 Quick tech specs
Flip design
Chrome OS
4 GB RAM
12.2" touchscreen 1920 x 1200
4G LTE
Intel Celeron 3965Y / 1.5 GHz
HD Graphics 615
32 GB eMMC
Wi-Fi 5
stealth silver
View All
Know your gear
With built-in LTE, the lightweight 2-in-1 Chromebook Plus lets you get more done anywhere, anytime, without having to search for Wi-Fi.
Contact Sales Assistance
(800) 808-4239
,
Monday-Friday 7am-7:30pm CT
Samsung Chromebook Plus 525QBBI - 12.2" - Celeron 3965Y - 4 GB RAM - 32 GB
is rated
4.30
out of
5
by
15
.
Rated

5

out of

5
by
dovtov
from
Extremely Slow - Crashes
When i try to use the camera with several different applicatons "Message: CPU speed may effect ideo quality. and it blurred. ts the only chromebook that can go online.
Date published: 2020-05-14T00:00:00-04:00
Rated

5

out of

5
by
Chris
from
Best chromebook ever
Bought less than a month ago and can't stay off of it
Date published: 2019-12-28T00:00:00-05:00
Rated

5

out of

5
by
Rachel
from
Perfect for my every needs
I bought this laptop two weeks ago for school & busy work purposes. I love it so much. I bring it back and forth to work with me. It's lightweight, a perfect size, it fits right into my purses and small book bags. And I can flip it around and use it just like a tablet. The speed of this thing is wonderful. Hasn't slowed down at all like a normal tablet would. One small issue is sometimes it seems to glitch. It happened once in a while, not sure why. Waiting to see how often it glitches. Otherwise Amazing Chromebook. Very happy with my purchase.
Date published: 2020-05-01T00:00:00-04:00
Rated

5

out of

5
by
tpenn28
from
Awesome
I use mine for school. Had it fog about 7 months. Love it!!!
Date published: 2019-08-23T00:00:00-04:00
Rated

5

out of

5
by
rocbutter
from
awesome
I bought this laptop two and one and it works perfectly the camera is good for Skype and other things like discord with other things like how confey the keyboard is compacted enough to work effetely.
Date published: 2018-11-26T00:00:00-05:00
Rated

5

out of

5
by
Marcbilly
from
lte option is dope
would like too let you guys know this is the best Chromebook out there. for your information this Chromebook work with any sim card not only Verizon. I'm currently using a mobile sim card
Date published: 2018-12-25T00:00:00-05:00
Rated

5

out of

5
by
Tom G
from
This is Awesome!
I was looking for an 2-in-1 device to replace my aging Samsung Chromebook that I bought in 2014. I was considering various Chromebooks and other 2-in-1 devices such as the Surface Pro 6 and Lenovo Yoga Book, but my search stopped when I experienced this computer first hand at Best Buy. It is an awesome user experience and very responsive on the web-based applications. As a bonus, the stylus pen was included and could be stored on the side of the computer. This Chromebook truly combines the best of all 2-in-1 devices currently on the market and I would recommend it to everyone!
Date published: 2019-03-24T00:00:00-04:00
Rated

5

out of

5
by
trigga
from
Easy to use and mind-blowing efficiency
I visited a family member recently who had just purchased a Samsung Chromebook V2 and she saw how much I was blown away by it so got me one as a gift. I was blown away (and still continue to be months later by how simple it was to navigate and use for someone like me who is not ultra-high tech. The keyboard is more comfortable than any one I have ever used. For someone with above-average typing skills, something like that is a big deal. Along with everything else that I dont have the time to go into specific detail about, its also very stylish and had beautiful, modern look to it.
Date published: 2019-03-13T00:00:00-04:00
Rated

5

out of

5
by
BFLONG
from
LTE is Verizon Only
Just received after being on backorder all month. The 'LTE' support is Verizon only. It's not listed anywhere in the specs above. Unlike every smartphone we've purchased in the past 2 years, this does not seem to have a universal cellular connection. It's only mentioned in the quick-start guide. That aside, it's fine. For the price point it's not the most powerful, and I'd like to see more RAM. It seems sturdy, and supports both Android and Linux apps. You're really paying a premium for the Verizon only cellular compatibility.
Date published: 2018-12-01T00:00:00-05:00
Rated

5

out of

5
by
ecg92251
from
Laptop works great but LTE sucks
I got this laptop a few months ago. This is my second Chromebook Plus, I had the original. I love the touch screen on this and how flawless it works with Squid. I this little guy both at work (I teach third grade) and at home. It's been responsive and the battery life is awesome (gotten up to 10 hours on w/light load, 6-8 average use). The only issue I have is the LTE. While there is WiFi almost everywhere, sometimes publie WiFi isn't the best. While I have great Verizon coverage on all my phone, it constantly says weak signal and only shows 1 bar 95% of the time. Not sure if the antenna's are just not positioned right, or what. I have a light plastic over on my Chromebook that I have on it to keep it from getting scratched and dented, but even with it off, signal stays at 1 bar. Oh well.
Date published: 2019-05-12T00:00:00-04:00
Rated

5

out of

5
by
samsungfan25
from
Great device--Love the LTE
THis is exactly what the chromebook needed. The LTE has really improved the user experience overall. I love it can be a tablet, a little laptop, and a tent mode for watching movies. The screen is great. Speakers are eh, but everything works great. It is fast, works great either on wifi or LTE. Only thing I wish was it had a better set of speakers and a backlit keyboard but that would probably kill the battery life. I get good batter life with this!
Date published: 2018-11-23T00:00:00-05:00
Rated

5

out of

5
by
whocar
from
Always Connected - Almost
Great product glad I bought it last month to support my near full time RV lifestyle...Verizon signal really slows at times to a crawl, could be because "weak signal" so.....does anyone have solution to boost/increase the Verizon signal? Been great for Netflick streaming with unlimited data plan.
Date published: 2019-01-16T00:00:00-05:00
Rated

5

out of

5
by
Mork from ork
from
Great
I purchased it to replace my old tablet love the speed and look of it and the fact it's a 2&1 design
Date published: 2019-07-16T00:00:00-04:00
Rated

5

out of

5
by
DaddyZ
from
Great for school
Bought it for my son for school he uses it daily and loves it
Date published: 2022-12-05T00:00:00-05:00
Rated

5

out of

5
by
Emza
from
Fabulous. But...
i have absolutely zero complaints about the tech itself. it's snappy, it's quick, it does everything i want it to. i have no issues with lte, no issues with speed. the speakers are fine, the screen is beautiful. but! why would you make the hardest wearing part out of plastic. despite the thing sitting on a desk at home and so very rarely being taken outside in a protective cover, the corner of the case - right on the hinge, is cracked. this has put so much strain on one corner of the screen that i'm not afraid to close it. poor, poor design flaw.
Date published: 2021-10-25T00:00:00-04:00