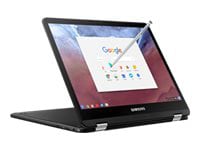 Quick tech specs
Flip design
Chrome OS
32 GB eMMC
HD Graphics 515
black
Core m3 6Y30 / 0.9 GHz
4 GB RAM
12.3" touchscreen 2400 x 1600
Wi-Fi
View All
Know your gear
Built for mobile productivity in the field or on the sales floor, the Samsung Chromebook Pro is a 3-in-1 workhorse featuring a 360° rotating screen and built-in Pen. From collaborating in the cloud to multitasking offline, you get uninterrupted access to Android apps on the go. Plus, business-grade security and a web-based Chrome Management Console let you focus on what really matters, like growth.


Contact Sales Assistance
(800) 808-4239
,
Monday-Friday 7am-7:30pm CT
Samsung Chromebook Pro 510C24I - 12.3" - Core m3 6Y30 - 4 GB RAM - 32 GB SS
is rated
3.46
out of
5
by
37
.
Rated

5

out of

5
by
Ind3
from
Started great, occasionally fritzed, then died
I loved this when I bought it. The touch screen functionality was great, I liked that in synced so easily with my Google accounts and apps. It was a bit fritzy - the screen would lock sometimes or the touch screen would stop - but restarting it worked. Until today. Totally bricked and no factory reset tab like in some models. 15 months is not very long for a $600 device. I have a six year old tablet and five year old cell phone so I'm not hard on my things.
Date published: 2019-08-07T00:00:00-04:00
Rated

5

out of

5
by
Beginning2h8Samsung
from
Network drops, system freezes, samsung support is abhorrentl
Have had the chromebook for two months. When it works, it is good. That however is not frequent.Recurring problems with wireless network. Drops network connection and requires system power cycle to resume. Only happens with this system. Other devices and phones in same area do not have this problem. Seems to happen most often (but not always) when resuming after it has been asleep (lid closed).System freezes about 4 or 5 times a week. When this happens, no input (mouse, touchpad, touchscreen, keyboard) works. This requires a hard power cycle to fix (hold down on power button for 10-15 seconds).Samsung support is currently absent. I have done everything required to get service and am awaiting any form of a response. The online support system request is seriously bad. Requires lengthy periods of time to fill in useless (and required) information. Much repetition is required. No confirmation is given, leading one to believe that nothing is actually happening.
Date published: 2018-05-15T00:00:00-04:00
Rated

5

out of

5
by
rcaputo49
from
Power for a Chromebook
The Pro had what I was looking for, processor power, size and a great display. Moving from a laptop to a Chomebook. I needed a great processor, Core m3 was the right choice, I need to work with apps from my cell, this one does, I needed a size that wasn't too big or too small, this one is perfect. The only thing I can say anything bad about would be Samsung Customer Service, that sucks. None existent.
Date published: 2017-10-02T00:00:00-04:00
Rated

5

out of

5
by
petercook
from
This product is a great design, but doesn't work
When using as a laptop the device works fine. When used as a tablet the screen will jitter like crazy, apps/screens will open/close at random, and becomes unresponsive. This happens almost every time I use the device in tablet mode. I contacted Samsung support and conducted a power wash, which did not resolve the issue. I really don't want to send the device to Samsung for repair as I've read other reviews that state that action did not resolve the issue either. I would just like my money back (I've only had the device for just over 1 month).
Date published: 2018-04-08T00:00:00-04:00
Rated

5

out of

5
by
LarmoCT
from
Easy to use and great features.
My Samsung Chromebook Pro is everything that I expected, and wanted it to be. Sturdy construction, very nice touch screen, faster than other Chromebooks I have owned. I have had another Samsung product with the stylus ( pen ), and find them very useful and easy to use. The touch screen and pen, help my productivity greatly.
Date published: 2017-06-04T00:00:00-04:00
Rated

5

out of

5
by
DissapointedinLex
from
Would love to review it, if it worked
I've ordered two of these and neither of them have worked. First at least turned on but then bricked itself within the first 5 minutes. The second one wouldn't even go that far. Would neither turn on nor charge straight out of the box.All the features look awesome and I would love to give it a glowing review but it would have to turn on for me to do that.
Date published: 2018-07-09T00:00:00-04:00
Rated

5

out of

5
by
Kristani
from
Well worth it
I waited patiently for them to finaly release the pro just for the intel processor. I was not dissappointed. The switching between apps and computer usage is flawless. I've only encountered one issue with an app that uses alot of computing power. The keyboard dosen't feel tight although the small backspace is a little aquward. The pen writing has a minor delay from where it is to the line catching up to it, but thats to be expected it cant read your mind to where its going. The laptop itself is very thin and light, easy to cary and slip into a protective seleave for transport. Battery life is exelent I consider myself a continuous user and find its battery last longer than my phone. Watched movies, played apps, browsed the web. The apps work either touch screen or with the mouse. The touch screen itself is very responsive and works in both tablet and laptop mode making for ease of use.Over all well worth the price your getting a tablet and a laptop had I paid seperatly it would have cost much more. TL:DRPositive:-Battery life-Runs apps great-Flud transitions-Lightweight-great 2 in 1-Love the penCons:-Fingerprints galore-Large for a tablet-Small keys on keyboard (mostly the backspace
Date published: 2017-06-25T00:00:00-04:00
Rated

5

out of

5
by
Jules
from
Finally!
I love this Chromebook! Samsung has done an outstanding job with this design. So light and thin and the flip design offers welcomed versatility.
Date published: 2017-06-27T00:00:00-04:00
Rated

5

out of

5
by
jellowonders
from
It's a good computer for certain people
This Chromebook is a really nice machine on the hardware side. The hinge feels so nice to lift and the computer pretty much stays on the table when opening the lid of the laptop. The laptop also has a stylus (which the spring fell out and now I can't get out of my computer) which can be very handy sometimes. The display is absolutely amazing. 2400 x 1600 resolution is much better than any other computer I've ever used. The software side of this computer just isn't matching up with the amazing hardware. The Chrome operating system is lacking simple features that Windows users take for granted. ChromeOS doesn't have a desktop that you can pin icons to, doesn't let you change the screen timeout times or what is shows for the screen saver. This makes the experience just not as good as it would be on a regular Windows computer, however I knew these things going into the purchase so... it's my fault. It does have nice exclusive features to be happy about like linking your Android phone and the Google Assistant built into the computer, which actually really nice to have. People might think that the Google Play Store is a great feature, but really it's not. The apps on the Play Store are no where near optimized for the Chromebook experience, not even the Play Store is optimized for the Chromebook. I don't blame Samsung for not having these features because it's not in their control, but just saying for the people even thinking of buying a Chromebook. This computer would be great for someone who likes Google products and is not someone who loves to use technology. Emails, web browsing, watching videos, and things like that are great to do on this computer, so if you are a person just doing that, it's a great computer for you.p.s. When buying a computer case, check that it fits because this computer has a weird shape.
Date published: 2019-06-24T00:00:00-04:00
Rated

5

out of

5
by
lrhawn
from
Cracked Screen
Up until now, I have been very pleased with my Samsung Chromebook Pro. Purchased Nov. 27, 2017, it is now just beyond the manufacturer's warranty period and the screen has developed a vertical crack from the top to the bottom of the screen about 1/4 of the way in from the left side. Seems like everytime I purchase a Samsung product, the product breaks or fails right after the warranty ends. This is so very sad and depressing.
Date published: 2019-01-18T00:00:00-05:00