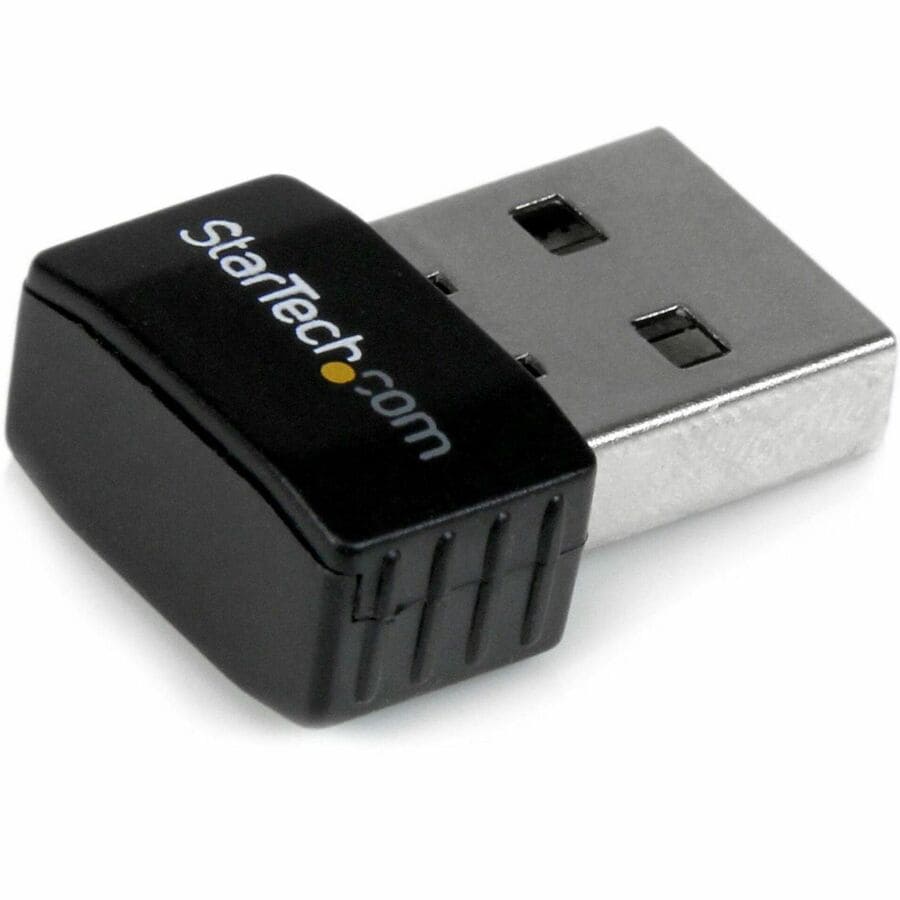 Quick tech specs
Add high-speed Wireless-N connectivity to a desktop or laptop system through USB 2.0
802.11n 2T2R WiFi Adapter
N300 Wireless NIC
802.11n USB Wireless LAN Card
Backward compatible with 802.11b/g (11/54Mbps respectively)
USB 2.0 300 Mbps Mini Wireless-N Network Adapter
USB Wireless Adapter
USB WiFi Dongle
Extremely compact design
View All
Know your gear
Add high-speed Wireless-N connectivity to a desktop or laptop system through USB 2.0. The USB300WN2X2C USB Wireless Network Adapter lets you add 300 Mbps Wireless-N connectivity to your desktop or laptop system through USB 2.0. With a compact, lightweight design, the adapter is extremely portable, and is unobtrusive when connected to your system - you can even leave it connected to your laptop when in a carrying bag, without worrying about damaging the adapter or the host port while on the move.

The USB wireless adapter is capable of data transfer rates up to 300Mbps over a 2.4GHz 802.11n WiFi network (backward compatible with 802.11b/g), through a 2 Transmitter / 2 Receiver antenna design. The adapter also supports security options such as WEP, WPA or WPA2, as well as quick device connection through Wireless Protected Setup (WPS), for a reliable and secure connection.


StarTech.com USB 2.0 300Mbps Mini Wireless-N Network Adapter - 802.11n WiFi
is rated
3.89
out of
5
by
9
.
Rated

5

out of

5
by
XPOChick07
from
This device brought high speed internet to our older PCs
Within a few minutes of opening the box, the device was plugged in and operational. The very simple setup had me online via a wireless hotspot very quickly. Our computers have only wired network connections with our building having only T1 connections to the web. Adding this device gave us easy access to use a hot spot's 4G speed for presentations and video conference calls without having to copy all data onto a laptop. Great product.
Date published: 2015-01-28T00:00:00-05:00
Rated

5

out of

5
by
barb
from
I love this...
This is going to be very long because I want to add a little tech support here in the event anyone has major issues with getting it to work on windows 10. Before I list the steps I took to correct the problem, though, I want to first say this in an amazing product for the price. I get and maintain a super fast connection with this tiny little thing that plugs discretely into my usb port. When I first opened the package, I had doubts something so tiny could do what I wanted to do from an usb. Anyway, I love, love, love this, but I had major issues getting it to work with windows 10 and I want to make this extremely clear it is a problem with windows 10, not the product. I wanted it to work with mobile hotspot. We live in a very rural area and tried to get a more reliable wifi service, but they were unable to get a signal strong enough for our particular location. BUT! We had cell phone service fine (go figure), but for some reason, we could not connect using our cell phone as a hotspot, so we purchased a mobile hotspot from Walmart and used straight talk. It worked fine for awhile, but we got so sick of paying $25 additional a month for only 2 gigs of data when get nearly 50 with our wireless plan. Anyway, I tried every tech support forum, video, whatever out there and no one could tell us why we couldn't connect using our cell hotspot. Finally, out of frustration, I started turning things off or changing settings and finally figured out how to make it work and not only work, but work well.If anyone has a problem using their cell as a hotspot, here is what you need to do:1. go to your command prompt, run it as an administrator.2. type in this command: netsh int tcp set heuristics disabled3. hit enter and you should get an OK message.4. type in this command: netsh int tcp set global autotuninglevel=disabled5. tap enter (get the OK message)6. type in this command: netsh int tcp set global rss=enabled7. tap enter/OK message!8. now make certain everything worked as it should, so type in: netsh int tcp show global9. tap enter and it should show a list of different things. pretty much everything except one should be disabled.10. restart your computer (there is still more to come tho!)11. go to the device manager and find the network device.12. under properties, go to the advanced tab and under bandwidth, change it to 20 ghz.13. under the same tab, go to Enable Adaptivity and disable it.Before doing any of this though, make certain you are using the latest drivers.This really is an awesome product!
Date published: 2016-10-03T00:00:00-04:00
Rated

5

out of

5
by
Jaykacs
from
Not a problem
I have been using it for a couple weeks, and there is no problem so far.
Date published: 2016-05-10T00:00:00-04:00
Rated

5

out of

5
by
SavannahArtist
from
Seems Cheap
I couldn't say anything about the performance because the only driver disk is not compatible with my Mac Book Pro and there is no downloadable driver for Mac OS 10.6 which in the description of the product it says that it can be used with that OS. The construction seems to be the same as one I purchased on amazon for under $10.00 and combined with another item my shipping was free. It was total junk that didn't work but it did have a downloadable driver for my OS. It fell apart when I tried to remove it from the USB port. This one was double the price and the shipping cost was almost as much as the item. This thing is tiny and weights nothing. Why was it $13 plus to ship it??? Really think about purchasing this item when you can get the same thing for under $10.
Date published: 2015-09-22T00:00:00-04:00
Rated

5

out of

5
by
sub1ime81
from
Perfect for what I needed
I purchased this for a laptop that had a bad internal wireless card. I didn't want the hassle of dismantling my laptop so I bought this instead. Plugged in, recognized immediately, and has better signal quality than the old card. The small form factor is great too so I don't have to worry about bumping it or anything catching and breaking it by mistake.
Date published: 2017-09-03T00:00:00-04:00
Rated

5

out of

5
by
Raymond
from
Easy Setup - Great Range
Excellent install instructions but you could install without.The range and signal strength are outstanding.The small size will make it attractive for some environments.
Date published: 2015-02-19T00:00:00-05:00
Rated

5

out of

5
by
CharlieB
from
Simple to use
Open the box and plug it in and done! Only issue is with one of these the cover for the adapter was loose and made removal difficult.
Date published: 2016-01-20T00:00:00-05:00
Rated

5

out of

5
by
samanthuel
from
Works Great
Very small device with excellent wireless range. Set up was quick and easy.
Date published: 2015-04-07T00:00:00-04:00
Rated

5

out of

5
by
Todd
from
Would be a decent adapter if so many weren't DOA
We ordered a bunch of these for a trade show, and in preparing the brand-new Win7 machines for the event we have had no end of trouble from these dongles despite downloading the latest drivers from StarTech. They will not stay connected, the devices themselves often will not start in Device Manager, and two of them so far became so hot that I almost burned myself on the USB connector after removing them from the PC. This dongle represents a new low in IT hardware quality, I would advise a D-Link or other brand over these.
Date published: 2015-03-01T00:00:00-05:00
Rated

5

out of

5
by
hemerich
from
good connectivity, good software
BEST PART IS THE SOFTWARE, WHICH IS EASY TO USE AND INFORMATIVE.
Date published: 2017-01-31T00:00:00-05:00