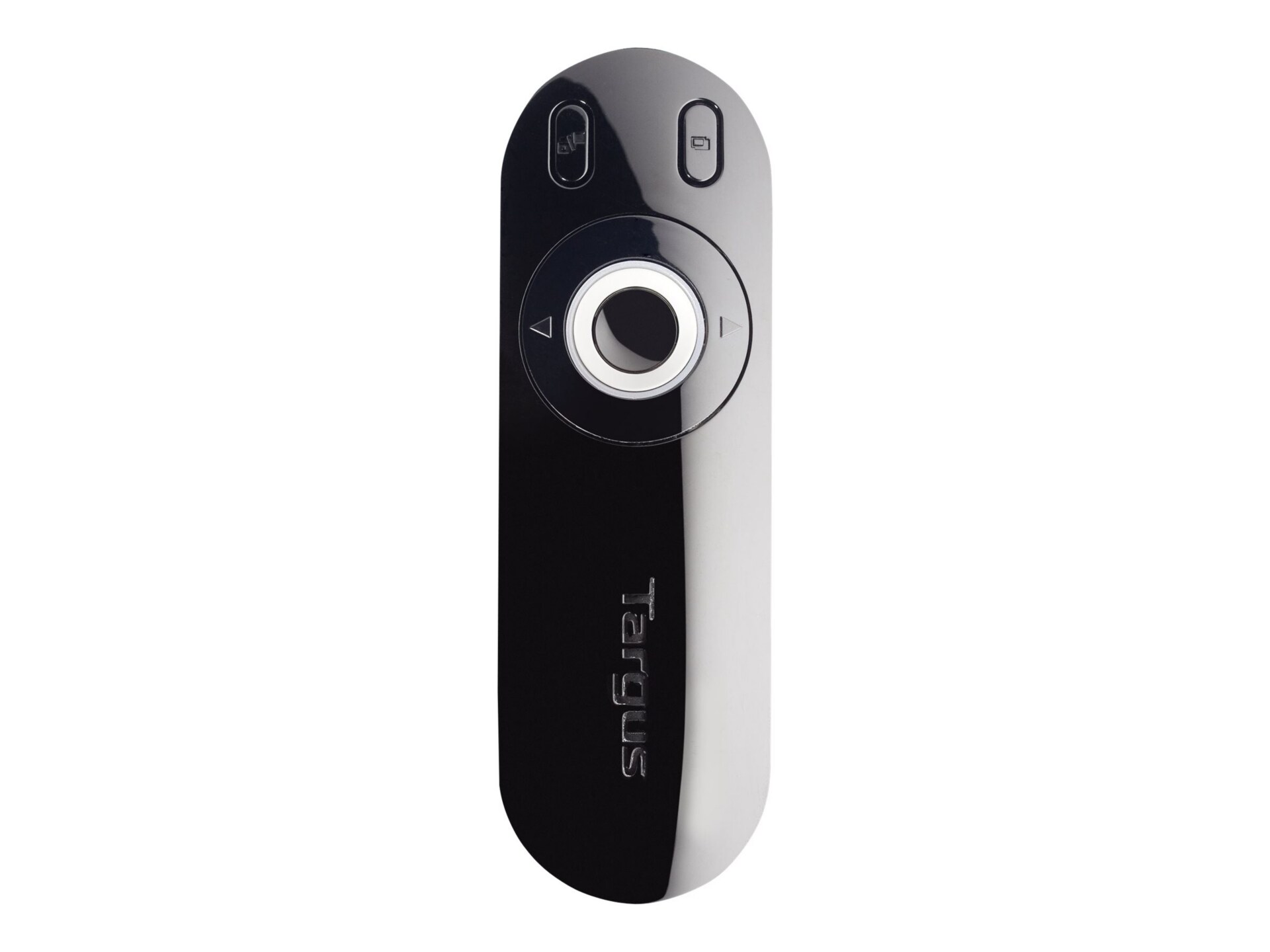 Quick tech specs
View All
Know your gear
The Targus Laser Presentation Remote features a simplistic button layout, making it easy to give presentations. The KeyLock Technology locks non-essential buttons when not needed to help eliminate accidental button presses. The integrated laser pointer allows the presenter to highlight important content while the backlit buttons provide visibility in environments with low lighting. The latest RF 2.4GHz cordless technology works from up to 50ft away, providing flexibility while presenting in large conference rooms or classrooms. The mini USB receiver stores inside of the presenter so it's always ready to use. The device is immediately ready to use and comes stocked with a high-quality AAA Energizer MAX battery. Both stylish and functional, the Targus Presentation Remote is easy to operate for seamless presentations at work or school.


Targus Wireless Laser Presentation Remote Control
is rated
4.50
out of
5
by
13
.
Rated

5

out of

5
by
kidA85
from
buying a second
I bought one of these for my companies conference room over 3 years ago and it has always worked when called upon. I've loaned it out for people to take to clients and used it on a hand-full of PCs around the office without any issues (other than showing people where the power button is). I now need to buy a second one because people are "borrowing" it from the conference room too much!
Date published: 2015-12-14T00:00:00-05:00
Rated

5

out of

5
by
mbpuser
from
Dead on arrival
Dead on arrival, either the battery is dead or the product. Should ship with at least one more battery or a working/tested one.
Date published: 2018-06-26T00:00:00-04:00
Rated

5

out of

5
by
Williams M.
from
Great when new. Then...
This is the third we've purchased. They work wonderfully, but I recommend having a backup for when they don't. The battery cover on one gradually became warped; another began to randomly operate the slide-advance feature; and one...well, it replaced the second one. The first one still works, with rubber bands around it to keep the battery cover in place. For the price, they might be built with a little sturdier casing material. But the three...well, that's how many we've purchased over more than a few years. So, yes, they're that good.
Date published: 2019-04-30T00:00:00-04:00
Rated

5

out of

5
by
Travis B
from
On my second in 8 years - does exactly what it needs to.
Best presentation remote! This replaces one that I had for about 8 years that the laser ran out of gas on and it works just as well. Good extra buttons for black screen, starting presentation and very intuitive main button design.
Date published: 2019-04-30T00:00:00-04:00
Rated

5

out of

5
by
Jannie
from
Very Efficient
This is a nice and wireless laser and remote for presentations. Its small enough that it fits very nicely in my hand, it's wireless, it also has a spot to store the wireless receiver right into the base of the laser, so you won't lose it for the next time you need it. One thing to note, you will need a AAA battery to operate your laser. This works perfectly for slide presentations to display your work and the laser to point out what you want to highlight.
Date published: 2022-10-17T00:00:00-04:00
Rated

5

out of

5
by
Brian R
from
Works great
Well designed presentation pointer. Comfortable grip. Laser pointer works well. Already familiar with the targus brand. The have a reputation for quality products. I would definitely purchase their products in the future.
Date published: 2022-10-16T00:00:00-04:00
Rated

5

out of

5
by
ssee
from
Feature rich and looks very nice and professional
We were looking for a good laser pointer for presentations and this looks awesome! So easy to use and our audience was much more tuned in and impressed by the fact that we had this and accentuated learning. Needless to say this is the next generation of laser pointer!
Date published: 2022-10-17T00:00:00-04:00
Rated

5

out of

5
by
Robpolo19
from
Great product
I have to do many presentations and this is by far the best pointer I've ever used. It so easy to use and just ergonomically smart as it fits perfectly in my hand. I can't tell you how much I love this product and I would highly recommend this product!
Date published: 2022-10-20T00:00:00-04:00
Rated

5

out of

5
by
Mespi420
from
Works as intended, a rarity
This little remote works perfectly as intended. Set up is simple: take USB dongle and attached to PC. During PP presentations, you can use the keys to move forward/back, lock keys, black out screen, and a laser pointer. Perfect!
Date published: 2022-10-24T00:00:00-04:00
Rated

5

out of

5
by
BreahanaTries
from
Works well with MAC
this remote works well, and seamless operation with a Macbook pro. I needed one of these for work presentations and helping out executives with their projects. Works great in a dongle and doesn't skip a beat! the circle lights up and makes it easy to understand what to push! Fits in a small hand well!
Date published: 2022-10-27T00:00:00-04:00
Rated

5

out of

5
by
jseeman
from
Compact and works great!
This is a great laser presentation remote. It is really compact, sleek looking and works great. I like that I can put it easily in the front pocket of my work bag. The grip on the bottom helps keep a good handle to it while you are giving a presentation. Totally recommend.
Date published: 2022-11-06T00:00:00-04:00
Rated

5

out of

5
by
Evanwitjc1
from
Easy to use!
This remote is by far the best presentation remote I have ever had. The remote is very easy to use and fits in my hand nicely. The instructions are very easy to follow. It has enough features for anyone to be able to use it.
Date published: 2022-11-07T00:00:00-05:00
Rated

5

out of

5
by
Tngsde
from
Great product
This laser pointer is absolutely amazing, it is super easy to use and works like a charm! No instructions needed just point and use for your next presentation. Perfect fit in a pocket too so even better!
Date published: 2022-11-07T00:00:00-05:00