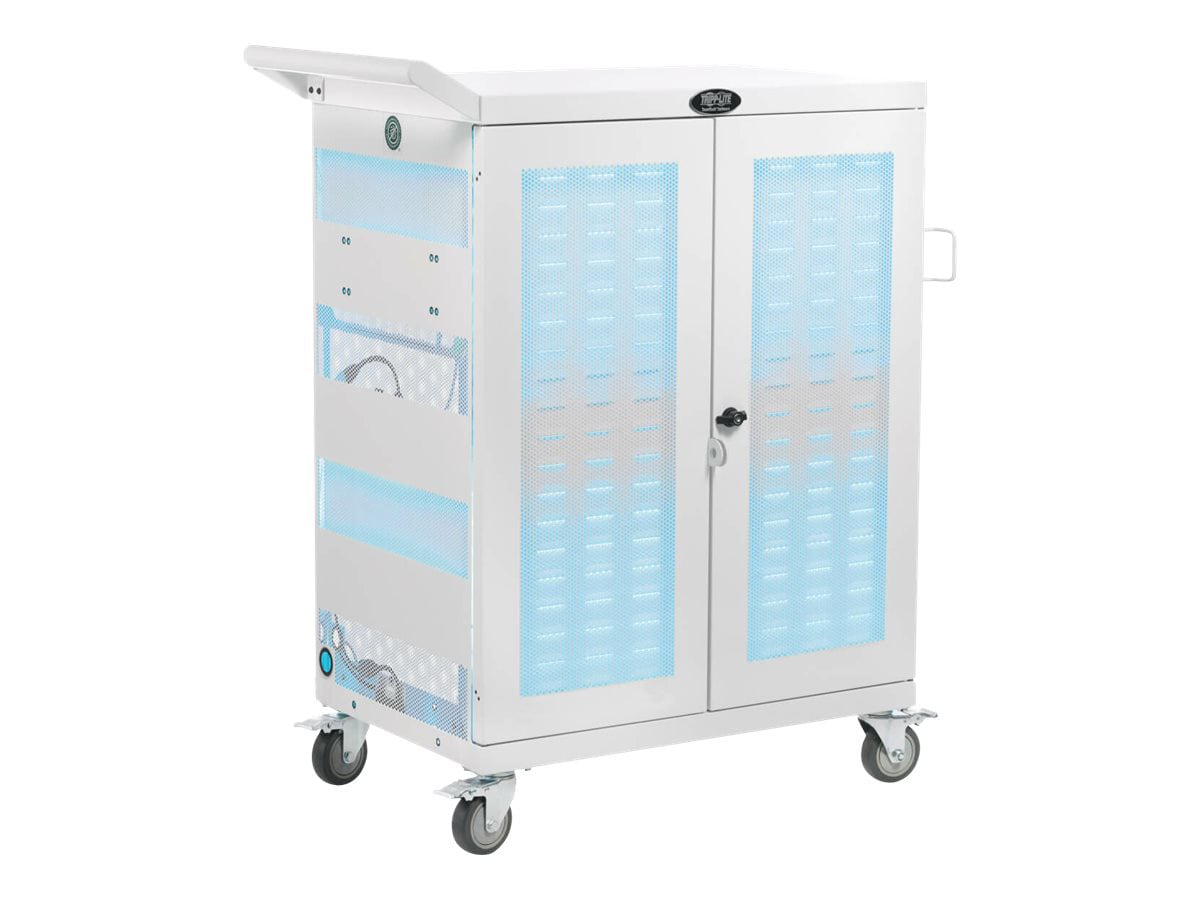 Quick tech specs
Charges/secures/organizes- /sanitizes up to 32 Chromebooks/laptops in healthcare/education/off- ice etc
UVC lights help disinfect w/o use of damaging heat/chemicals
Locks w/ incl. keys to stop theft/damage
Tripp Lite is now part of Eaton
32 internal NEMA 5-15R outlets charge devices w/ screens 15"
Patented antimicrobial coating is 99.9% effective in inhibiting bacteria/viruses
AC Charging Station Hub/ Mobile Charging Cart/ Laptop Charging Station Organize/ Chromebook Charging Cart
View All
Know your gear
Mobile Charging Cart Accommodates up to 32 Chromebooks and Laptops

This 120V charging station provides AC charging, secure storage, cord management and surface sanitization for as many as 32 Chromebooks and laptops with a screen size up to 15 inches. The connected devices' AC adapters plug into 32 NEMA 5-15R outlets for charging. A built-in circuit breaker protects the devices against overloads. The laptop charging station is recommended for healthcare facilities, classrooms, businesses, government agencies, restaurants, hotels and anywhere else that uses mobile devices on a daily basis.

UV Light Helps Sanitize Devices without Potentially Dangerous Heat, Liquids or Chemicals

The CSC32ACWHG helps reduce the presence of germs on Chromebooks, laptops and tablets. Built-in ultraviolet lights help disinfect electronic devices at the touch of a button by destroying most microbes without the use of damaging heat, liquids or chemicals. The germicidal UVC bulbs are on a timer to control the amount of UV exposure the devices receive. An LED on the exterior of the cabinet indicates when the doors are closed and the start button can be pressed to activate the 10-minute timer. A second LED indicates when the UVC lights are on. If a door is opened during sanitization, the lights automatically shut off for safety.

Exclusive, Patented Antimicrobial Protection Fights Surface Bacteria

The charging cart's interior and exterior surfaces, including the handle, are protected by a patented antimicrobial powder coating with EPA-registered and FDA-compliant silver ionic technology. The antimicrobial surface protection is 99.9 percent effective in inhibiting the growth of bacteria and viruses, such as C. diff and MRSA. The coating meets the requirements of JIS Z 2801:2000, an international standard for evaluating efficacy in antimicrobial products.

Locking Steel Enclosure Keeps Valuable Equipment Safe and Secure

Constructed from heavy-duty steel, this charging cart provides safe, secure storage. The split front doors lock with the included keys to help prevent theft, damage and tampering. For extra security, the front door can be fastened with a user-supplied padlock. Flow-through ventilation helps protect against overheating, and the specially coated shelves help prevent device scratches and scuffs.

Moving Your Devices from Room to Room Is Easy

Four pre-installed swivel casters with large non-marking wheels improve the ride over uneven surfaces, including carpeting and thresholds, and lock to help prevent unwanted movement. The reversible wide-grip handle makes the cart easy to control.

Well-Organized to Avoid Confusing Cable Clutter

Cables and connectors run through strain relief bushings, keeping them organized and out of the way, and are protected by blanking panels. Adjustable dividers accommodate up to 16 devices per shelf. Front doors open at least 180 degrees to allow maximum access to the interior. A power cord wrap keeps the input cord out of the way when moving the charging station. Access grommets allow the 10-foot cord with hospital-grade NEMA 5-15P plug to extend through either side of the cart, allowing great flexibility in reaching AC outlets.