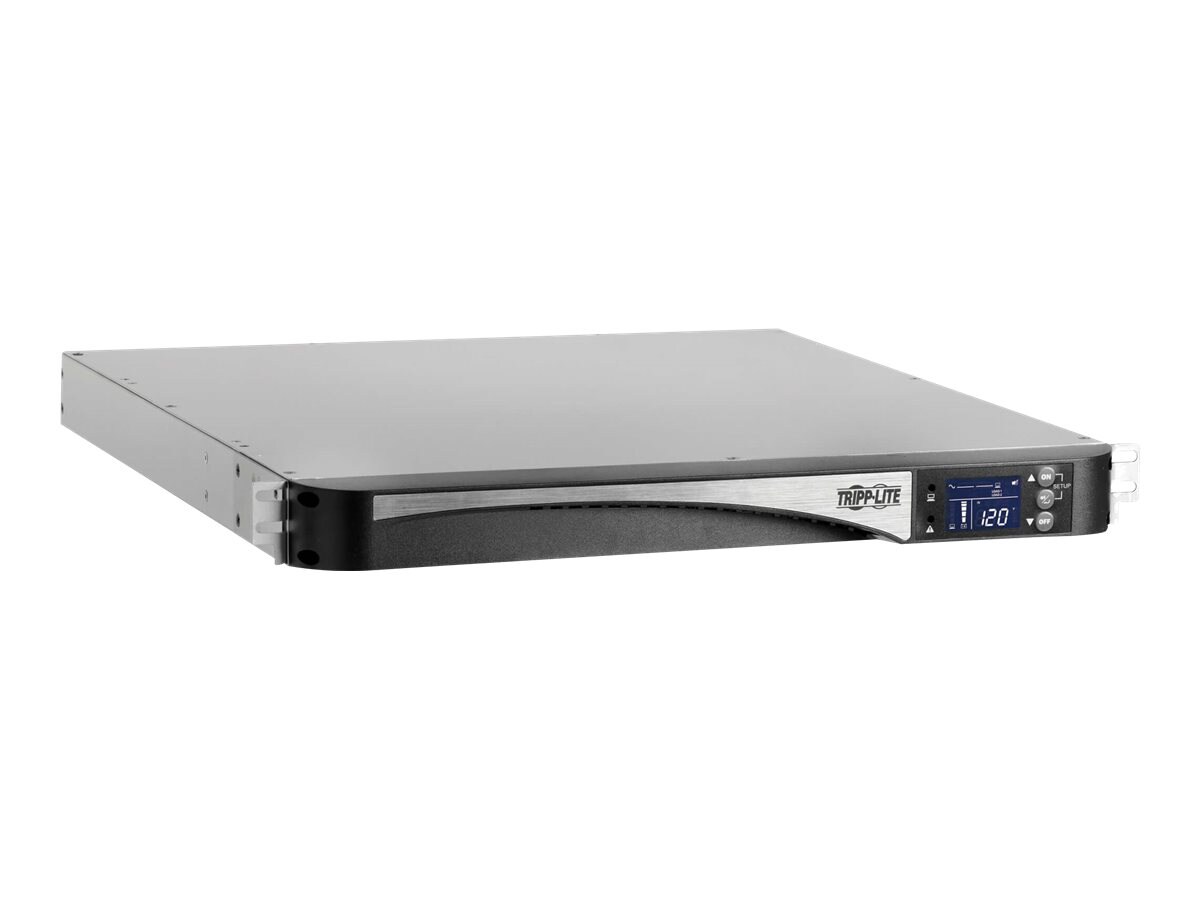 Quick tech specs
Line-interactive UPS system provides complete battery backup and protects servers/switches and other in-rack IT equipment in small/mid-size networks against blackouts/brownouts/tran- sient surges/line noise
Maintains continuous 120V nominal output during brownouts as low as 90V
Optional WEBCARDLX for enhanced remote management
Keeps AC power running during outages to allow time for file saves/safe shutdown
4 NEMA 5-15R outlets
Tripp Lite is now part of Eaton/3 Year Warranty w/ Reg.
View All
Know your gear
This SmartPro line-interactive UPS system with AVR provides reliable battery backup and AC power protection against blackouts, brownouts, surges and line noise that can damage valuable electronics or destroy data. The SMART700RT1U is ideal protection for point-of-sale and kiosk applications, a small-business VoIP network or rack-mount equipment, such as servers and switches, in your server room or network closet.

The field-replaceable, hot-swappable internal battery provides 10 minutes of support at half load (210W) and two minutes at full load (420W), allowing you to work through short power failures and giving you enough time to safely save files and shut down your system in case of a prolonged blackout.

The optional WEBCARDLX (sold separately) with the latest version of PowerAlert Device Manager firmware (PADM20) provides enhanced remote management capabilities, including customizable dashboard graphs to fit user preferences. The PADM20 upgrade and Tripp Lite's PowerAlert Element Manager (PAEM) software form a powerful tool for expanding maintenance functions in large installations, including firmware update checks and backup and restoration of device configurations.

Four 5-15R outlets in two separate load banks provide connected equipment with pure sine wave AC output during blackouts, overvoltages and severe brownout conditions. Power provided by these outlets is filtered to protect connected equipment against damaging surges and line noise.

AVR protects your equipment from incremental hardware damage, data loss and performance problems caused by brownouts. The SMART700RT1U maintains regulated 120V nominal output during brownouts as low as 90V, while keeping the battery fully charged and ready to take over in case of power failure.

This UPS system filters out disruptive electromagnetic and radio frequency interference that can inflict hardware damage or data loss. This EMI/RFI filtering also helps your connected components perform better and last longer.

A 98% efficiency rating reduces BTU emissions, energy consumption and, ultimately, your energy costs.

The front-panel LCD features detailed UPS and site power status and operating data (including load, voltage and battery data) and multiple screens of configuration and setup options. LEDs indicate AC output availability and fault status. On-screen operational diagram offers an easy-to-grasp visual representation of line and battery modes.

RS-232 and HID-compliant USB ports connect to a computer running Tripp Lite's free downloadable PowerAlert software to enable safe unattended shutdown in case of a prolonged power failure. The EPO/ROO port supports emergency shutdown in large facilities or remote On/Off capability. USB and DB9 cables are included.

WEBCARDLX allows use of Tripp Lite's IP-based Auto Probe feature, which ensures continuous network uptime by communicating with other network devices. If communication is lost, Auto Probe autonomously performs one or more user-configurable actions, including email notifications, which help you return the network devices to an operational state.