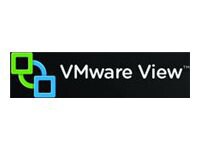 Know your gear
VMware View 4 Starter Kits let you deploy virtual desktops at a fraction of the cost of buying the individual product components.

Get started with the VMware View 4 solution at a phenomenal price. The VMware View Starter Kits let you experience simplified desktop management and secure provisioning with VMware View Manager 4, while enabling you to extend powerful VMware vSphere 4 capabilities - such as business continuity and disaster recovery to your desktops. Also included with VMware View 4 is PCoIP protocol which is purpose built for the desktop and delivers improved user experience over the LAN and WAN.

The VMware View 4 Premier Starter Kit adds to the Enterprise kit with several exciting components including View Composer for single image management and reduced storage requirements and ThinApp for application virtualization. This helps to substantially lower the costs of managing applications and desktops while increasing user flexibility and agility.
Software Details
(v. 4)
10 concurrent connections
TPP
U.S. Federal only
license
federal
level 3 (1000-1749)
View Tech Specs