Cloud Adoption Supports School District's Disaster Recovery, Remote Instruction
West Windsor-Plainsboro Regional School District's migration to the VMware Cloud on Amazon Web Services improves uptime and saves money.
West Windsor-Plainsboro Regional School District in New Jersey relies on technology now more than ever, with applications that manage everything from daily operations to classroom instruction. Downtime is not an option. 
Knowing that disasters can happen anytime, IT Manager Harry Doctor Jr. set out to improve the district's disaster recovery posture two years ago. 
At the time, the district's DR plan was problematic for two reasons. First, while the 10-school, 10,000-student district has one primary data center that fails over to a second data center, they are less than 2 miles apart, so if a hurricane or other natural disaster were to take down one facility, it would likely take down the other. 
Second, the two data centers were not created equal. The main data center consists of 16 Cisco UCS servers and Dell Compellent storage hardware with 400 terabytes of storage, while the backup data center is smaller, with only four Cisco servers and 50TB of Dell storage. Doctor worried that in the case of a disaster, the IT staff could only replicate the most critical 10 to 12 applications, but not every important application. 
To bolster business continuity, Doctor and his team wanted a solution that was resilient, flexible, cost-effective and easy to use. They decided the cloud was the best fit for their needs, and in fall 2019, the district embraced a hybrid on-premises and cloud architecture and adopted VMware Cloud on Amazon Web Services.
"In a true DR situation, we'd fail from one site to another and keep going, and not have to think too hard about what workloads to keep online or not," Doctor says. "By going to the cloud, we don't have those issues anymore. If we need to fail over, we fail over."
This was one of the reasons district administrators and the board of education quickly approved the project.
The timing was fortuitous. Five months after the district added VMC on AWS to its DR strategy, COVID-19 hit. When the pandemic closed down schools, the cloud service provided the district the extra computing power and storage it needed to quickly pivot and support a suddenly remote workforce and remote students. 
"We paid for VMC as an insurance policy, waiting for a disaster, and I'd call COVID-19 a pretty big disaster," he says.
The amount West Windsor-Plainsboro Regional School District saved by adopting VMware Cloud on AWS1
Source: 1West Windsor-Plainsboro Regional School District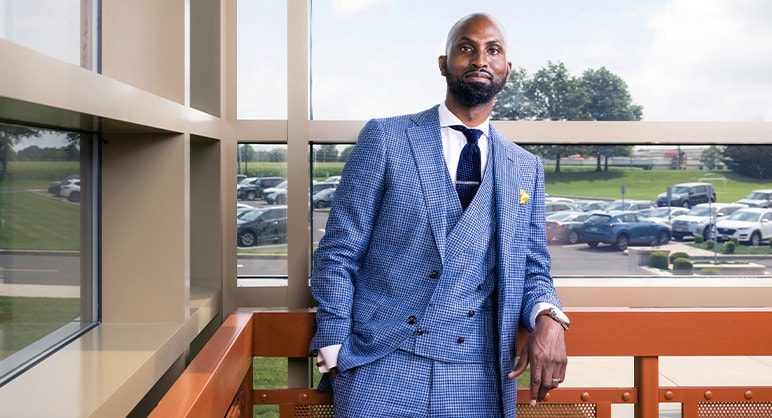 CDW•G Helps District Choose the Right Cloud Provider
Doctor's plan was to keep both on-premises data centers and augment his DR strategy with the cloud. But making the move to a cloud environment can be complex and daunting, so his first call was to CDW•G.
Having purchased technology from the company for more than 15 years, Doctor says he feels a built-in trust and comfort with CDW•G. He does his own homework but often turns to Vincent Mulvihill, his CDW•G executive account manager, for guidance. 
"Over the course of time, I've come to trust what he says. Everything he said has proved to be a benefit," Doctor says. 
The CDW•G team talked extensively with Doctor about the merits of several cloud services, including VMC on AWS, a cloud service that VMware and AWS launched in 2017.
CDW•G recommended VMC on AWS because Doctor and his IT staff were already familiar with VMware's software, having previously standardized on vSphere to virtualize their servers and vCenter management software to manage their on-premises data center environment. 
Through vCenter, users get a unified view of their in-house data centers and cloud environments, and can seamlessly manage and migrate their virtual machines to the cloud and back through a single interface, says Dan VanDerBosch, CDW's business development specialist for VMware cloud solutions. 
"The benefit is that you can adopt the cloud service quickly because you are using the same tools you've been using for years," he says.
In contrast, some cloud vendors require users to learn new cloud-specific tools and refactor applications before deploying them, which is a multiyear process, VanDerBosch says.
Fully Connected with Help from a VMware Pro
CDW•G also brought VMware's sales team into the discussion. The team showed Doctor a demo and gave him access to an online lab, allowing him to test drive the cloud service. He was impressed by how simple it was to use.   
"Seeing is believing," he says. "The most important thing for me was to move resources to the cloud space and back down without a steep learning curve."
Doctor knew a cloud subscription required a big annual investment, but the district was due to refresh servers in about two years. By migrating to the cloud, the district would buy less on-premises hardware. When he factored in hardware prices and the cost of maintaining, powering and cooling it, it resulted in a lower total cost of ownership.
During late summer in 2019, the West Windsor-Plainsboro Regional School District subscribed to VMC on AWS. Doctor spent two months implementing the cloud service and got it operational that October.
For the most part, the installation process was easy. Doctor effortlessly connected his on-premises vCenter with the cloud and set up a secure tunnel with a Palo Alto Networks firewall. 
When he ran into a few stumbling blocks with two new cloud technologies, he called CDW•G for assistance. CDW•G connected him to a VMware engineer, who assisted him over two days.
"They helped us get up and running and fully connected," he says.
Supporting Remote Students and Workers During COVID-19
With the cloud up and running, Doctor's initial strategy was to keep compute and storage in the cloud available for disaster recovery. 
The secondary data center would remain the primary backup site. If there was ever an outage at the primary data center, the most critical apps would immediately fail over to the secondary site. If a big storm was descending on New Jersey, however, he would skip the secondary data center and migrate all the important applications to the cloud ahead of time to ensure uptime. 
Then the pandemic happened, and his plan for the cloud shifted. 
In March 2020, when the coronavirus forced a lockdown, Doctor's first reaction was to scramble to buy more servers to support remote workers and students. The district had enough Chromebooks for students and had already standardized on cloud applications for remote learning, including Zoom and Google Workspace for Education. 
However, the IT staff would need to quadruple the number of virtual desktops from 100 to 500 for administrators and staff to access the applications and data they needed. He would also need the virtual desktops for some students who needed to access specific educational apps for classes such as art and science. 
He quickly realized he didn't need to buy more servers, since he could use the compute and storage resources in the cloud. "We already bought and paid for the cloud, so why not use it?" he says. "So, that's what we decided to do, and it's all worked out for the better." 
He decided to move production workloads to VMC on AWS and uploaded 40 to 50 virtual servers. That freed up resources in the primary data center to install the additional 400 VMware Horizon virtual desktop infrastructure instances. 
The setup worked perfectly. Running workloads on both the primary data center and the cloud allowed the district to keep operations up and provide users with good quality of service during the pandemic, he says.
Simplifying Cloud Management with Automation
VMware Cloud on AWS offers several automation features to ensure customers' applications and data are highly available. 
The cloud service continually runs health checks on customers' servers and storage environments, including memory, fans and temperature, says Dan VanDerBosch, CDW's business development specialist for VMware cloud solutions.
If one host enters a questionable state, it automatically remediates the problem by moving the applications and data to a new host to ensure uptime, he says.
VMC on AWS also automatically notifies customers when it is nearing storage capacity and scales when customers require more cloud resources, VanDerBosch says.
VMC on AWS Is a Key Part of District's Future
With West Windsor-Plainsboro Regional School District fully reopening schools for the 2021–2022 school year, it won't need as many virtual desktops, but Doctor plans to keep production workloads in the cloud because it will help the district cut costs.  
Ten out of the 16 servers in the primary data center are reaching their end of life. Because servers are getting more powerful and he's keeping applications up in the cloud, he will be able to replace those 10 servers with just three or four servers, which will save money, he says.  
Overall, Doctor is extremely happy with VMC on AWS. His DR strategy is much improved from just two years ago. He's built redundancy everywhere he can. 
"It's good to have a good night's sleep and not worry if resources will stay online. I'm not concerned with items we put up in the cloud because of the fault tolerance," Doctor says. "It's about resiliency and uptime, and VMC on AWS has got it. They've got it locked down."
Photography by Colin Lenton