How Mobile Tools Help Healthcare Providers Streamline Care
Enhancing collaboration among patients and care providers improves outcomes.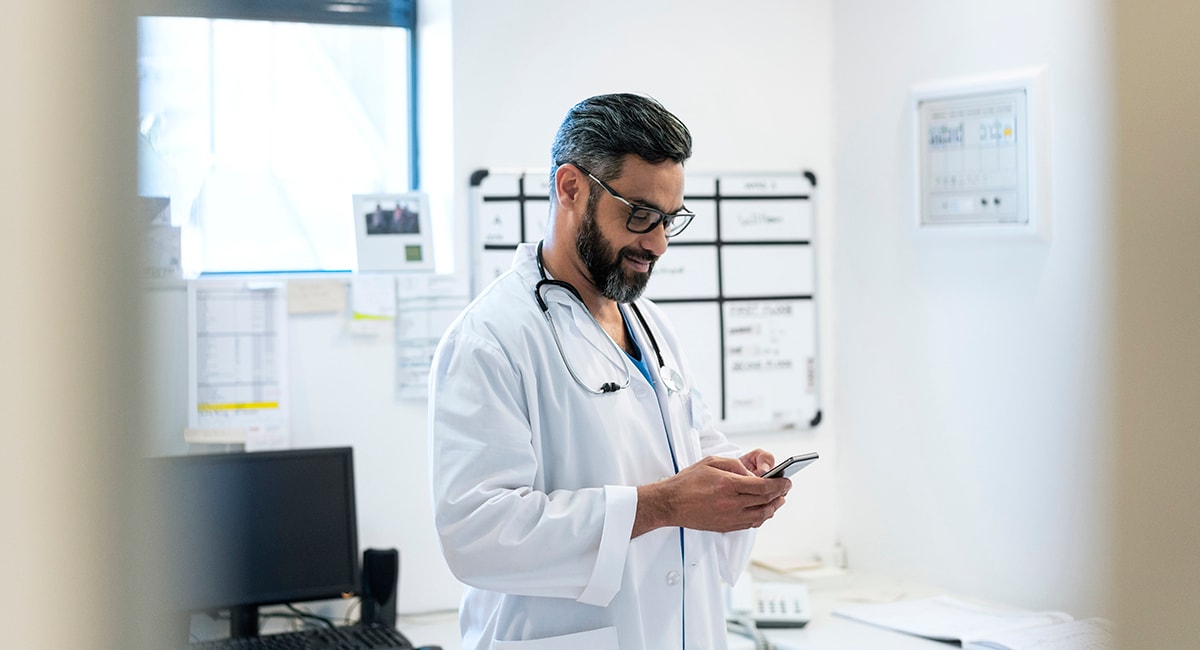 Patients are more involved with their healthcare than ever before. There are many factors behind this increased involvement, including the increasing use of mobile and telehealth tools as well as other healthcare communication technologies. These solutions improve collaboration among patients, providers and clinicians and lead to better outcomes.
Mobility solutions hold the potential to improve healthcare in many ways. A key example is the delivery of a better patient experience. Today's patients expect the same kind of technology experience at a hospital as they have at home. Further, healthcare providers are learning that improving a patient's level of engagement is essential to improving care. To that end, many hospitals are offering tablets and other mobile devices, for instance, so patients can review and take proactive action with their care plans, control in-room entertainment and order hospitality services.
Read the CDW white paper "Better Healthcare Through Clinical Collaboration" to learn more about technologies that connect care providers and patients.
Similarly, mobility among clinicians helps streamline care. Many healthcare providers are giving clinical staff members mobile devices to access electronic health records and coordinate efforts, thereby improving their ability to deliver care in a timely manner. Better collaboration through mobile technology can reduce bottlenecks, holding the potential to improve patient outcomes, enhance workflows and lower operating costs.
Improving Clinical Outcomes Through Communication
How can IT drive a more efficient clinical workflow? Where can CIOs best focus attention and investment to improve those workflows?
Adopting mobile technologies in healthcare facilities can go a long way toward improving the patient experience and streamlining collaboration and communication among care teams. Mobility drives efficiencies in clinical workflows in many ways:
Reducing the average length of a hospital stay
Saving time per nurse shift on documentation
Cutting down admitting and discharge times
Decreasing order-to-lab times
Consolidating the number of computing devices needed to coordinate care
Reducing the "workstation on wheels" footprint in healthcare facilities
Improving nurse satisfaction thus reducing burnout and turnover
Mobile messaging is a great example. By simply deploying a secure texting solution to clinicians on mobile devices, healthcare organizations can dramatically improve the delivery and coordination of patient care. Mobile messaging significantly reduces communication delays associated with voicemail and email and provides better, quicker responses to consultation requests and ancillary services.
In addition to secure messaging, integrating Voice over IP with mobile platforms for nurse calls, alerts and alarms can promote IT consolidation by giving clinicians one computing device for all their daily tasks.
That said, healthcare providers need to ensure their clinical mobility strategy meets the goals and requirements of the people using mobile devices. They should also make certain there's an infrastructure in place to support, for example, the growing demand for mobility in bedside patient care. The best way to realize a positive return on investment from clinical mobility solutions is by making sure the infrastructure will scale easily to support current and future applications.
Laying the Foundation for Success
Enabling clinical mobility and collaboration isn't as easy as handing out devices or rolling out mobile carts. To be successful, healthcare organizations must lay the groundwork for their efforts and ensure clinicians and IT staff are on the same page.
CDW's Clinical Mobility Workshop offers organizations the highest probability of success by assessing their specific needs through CDW-led focus groups of both clinical and IT staffs. From these focus group interviews, CDW creates a statement of understanding based on clinicians' experiences, challenges and desired outcomes. It includes actionable insights for executing a successful clinical mobility rollout and laying the groundwork for better patient outcomes and greater clinician job satisfaction.
By incorporating mobility into their care models, healthcare providers and clinicians will improve health outcomes, build stronger ties with patients and create new operational efficiencies that can carry them to a more successful future.
Explore more ways CDW supports healthcare organizations.