Research Hub >

How to Choose the Best Printer for Your Small Business
Use Case
How to Choose the Best Printer for Your Small Business
What are the best printers for small businesses: all-in-one printers, laser printers or another type of printer? We weighed the pros and cons of each type of printer from a small business perspective to help you choose.
Your printer will be an integral part of the productivity for your business. If you want to know how to choose the best printer for your small business, this guide is for you. In this post, we'll highlight the pros and cons of the commonly-used printers to help you choose the best printer for your small business in 2020 and beyond.  
Key Features to Look For When Choosing A Printer
When choosing the best printer for small business, here are some key features to consider:
Upfront Cost. You may have a limited budget to purchase your new printer. If that's the case, upfront cost may be your biggest concern.
Long-Term Costs. While it can be tempting to go with a cheaper printer to save money upfront, it's also important to consider long-term costs. Things like cartridge replacements, maintenance, energy consumption and more can add up in the long run.
Maintenance Requirements. Will your printer require regular maintenance to keep it in shape? Is the type of printer you are considering prone to jamming or other issues?
Printing Speed. Do you need a printer for high-volume tasks? Printing speed will likely be a major concern for you when choosing a printer.
 Printing Quality. Will your printer be used primarily for internal documents, or will you be sharing documents with stakeholders? Printing quality can make or break a first impression.
All-in-One Multifunction Printers Pros and Cons    
Many startups and small businesses invest in all-in-one or multifunction printers as a way to have access to a printer, fax machine, scanner and copier all in one unit. These are an economical way to be able to have the basic hardware you need to run a business cost effectively. The majority of models have Wi-Fi connectivity and allow for scanning directly to the cloud for easy access by others on the network. Consider the following points when choosing the best all-in-one printer for a small business.
Pros of Multifunction Printers
Save Space. Multifunction printers combine the functions of several office machines into one package, saving both money and space.
Cost-Efficient. Once you factor in the cost of buying toner for both a printer and copy machine and ink for a fax machine, you can see the savings having the hardware combined into the all-in-one.
Improved Productivity. The best multifunction printers for small business have greater copy and printer speeds when compared to a single laser printer or traditional copy machine. The higher speeds boost productivity.
Cons of Multifunction Printers
Potential Traffic Jams. With a single all-in-one in a small business, there will inevitably be a traffic jam at the printer at some point when someone wants to print or fax while someone else wants to copy or scan at the same time.
Multitasking May Not Be Enabled. Incoming faxes may be missed, as not all multifunction printers can perform two duties at once.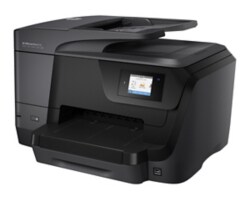 Laser Printer Pros and Cons    

If your day-to-day duties require a heavy volume of printing, a laser printer may be the answer. Laser printers work by taking the text or image that is being printed and beaming it onto the drum, which attracts toner and transfers it to the paper. Some deciding factors when considering the best laser printer for small business use would include how much printing would be done and whether text documents or presentation-worthy graphics are needed on a regular basis.
Fast Printing Speed. Fast speed makes laser printers ideal for businesses that need to print a high volume of documents.
Sharp, Reliable Prints. Text documents print concisely and sharply.
Reduced Long-Term Cost. While the laser printer itself can be expensive, the overall cost of ink should be an economic tradeoff as one laser toner cartridge can print many more pages than an inkjet toner cartridge.
Durable Construction. Laser printers are good investments as they are built durably for years of service. 
Higher Upfront Cost. The initial expense can be higher than an inkjet printer.
Requires Specific Paper. Laser printers require standard copy paper or paper made specifically for laser printers.
Not Ideal for High End Photo Printing. While a laser printer can render simple graphics nicely, it is not recommended for photo printing.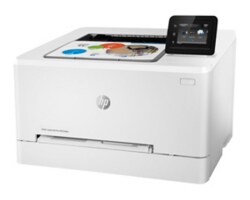 Find the right ink and toner for your device.

Business Inkjet Printers Pros and Cons    

A great solution for a small business that needs to print both documents and photo-quality presentation materials is an inkjet printer. These printers can print on both regular copy paper or photo paper with high-quality results. But there are a few things to take into consideration before choosing a business inkjet printer.
Pros of Business Inkjet Printers
Ideal for Photo and Graphic Printing. They are fantastic for printing photos and graphically large documents.
Reduced Long-Term Cost. Because inkjet cartridges have a lower cost than toner cartridges, inkjet printers are a good economical choice when doing a side-by-side price comparison.
Can Print on Variety of Paper. Print on a variety of paper types including inkjet paper, matte and glossy photo paper and textured stationary, to name a few.
Can Refill Cartridges. Inkjet cartridges can be refilled instead of buying new ones.   
Cons of Business Inkjet Printers
Prints Can Smudge or Fade. Most inkjet ink is dye-based and is susceptible to smudges and fading.
Cartridge Cleaning Required. Inkjet cartridges need to be cleaned often, which uses up ink.
Not Ideal for High Volume Printing. Inkjets are not designed for high-volume printing. Be prepared to restock the paper tray often if you have a large project.
Blurry Text. Some inkjet printers will produce blurry text on thin copy paper.

Other Types of Printers to Consider      

There are many other types of printers that may be the right choice for your small business:
Thermal Printers. If you need to print receipts or labels, a thermal printer will be ideal as a cost-effective solution. These types of printers require no ink or toner and work by printing text on paper that reacts to the heat of the printhead. They are a quiet and efficient way to deliver point of sale receipts or organize your workspace. Shop Now
Photo Printers. As the name suggests, these printers are specialized for printing high quality photos. If you have a creative team that needs to print hi-res photos on glossy paper, this could be the right choice for you. Shop Now
Dot Matrix Printers. These printers work by physically pressing a printhead on paper. They are very affordable and can even be used to print on multiple pages at once (if using carbon copy paper). Shop Now
For a more in-depth comparison of the various types of printers, read our Printer Buying Guide. 
Get the Best Printer for Your Business Today
Use the tips in this guide to choose the best printer for your small business. Make a list of the types of printing you will need to do the most for day-to-day operations. Then consider particular tasks you need to perform, such as printing promotional materials, graphs and charts. Finally, consider the long-term cost of toner or ink to help choose the right printer for the job.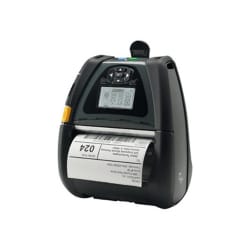 Ready to find the best printer for your small business?