Energy and utility industries are growing and expanding. New technologies drive efficient and impactful decisions, and customers are expecting a more connected energy experience than ever before.
Infrastructures dating back almost 100 years make adopting new technologies difficult – if not impossible – without modernization. Learn more about today's energy and utility organizational challenges.

Ready to take the next step with your energy and utilities organization? Talk to us.
For more advice, contact your dedicated account manager.

With grids around 75-100 years old, grid modernization is as monumental an undertaking as it is a requirement for modern technology deployment. There is no way to activate modern technology without first bringing those near-century old infrastructures to a contemporary state.
The benefits of modernization and modern tech, however, are significant. Increased efficiency, green initiatives, and enhanced energy storage are just some of the highlights that can be gained.
BizTech Magazine: How Technology Can Help Stabilize the Electrical Grid
Your customers are raising their expectations for utility companies.
As many start to take a more active role in their energy experience – from taking on green initiatives to employing smart devices to better monitor and utilize their energy – utility companies must be prepared to meet and keep pace with their evolving customers. 
BizTech Magazine: 4 Tech Trends to Watch For in Energy and Utilities in 2022
Utilities are one of the top industries for data generation, and the result is massive amounts of information to sieve through.
When leveraged, data can empower utility organizations to make better regulatory decisions, create more impactful marketing and communication materials, meaningfully engage with customers and efficiently take on maintenance projects.
BizTech Magazine: 3 Ways Utilities Can Use AI to Boost Operations
Modernization of Legacy Infrastructure
Oil and gas modernization initiatives have a very specific set of challenges and opportunities. If an oil company wants to modernize a rig, they could use data sensors to tell them how much they should be drilling down rather than spending hours, days or even weeks drilling manually.
But old infrastructures and remote locations (such as the ocean) can make meaningful physical updates a barrier. Through the Internet of Things (IoT) and digital modernization, these barriers can be reduced, creating new opportunities and more productivity with less downtime for oil and gas companies.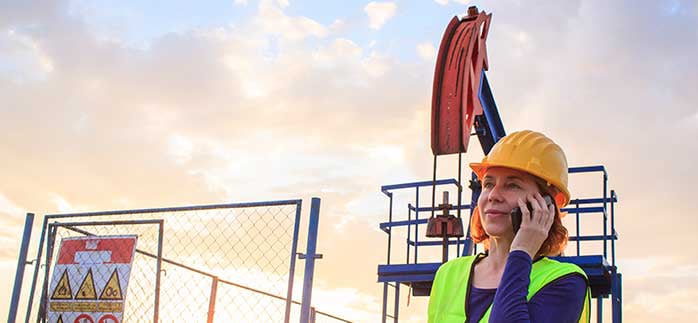 In the gas and oil industry, new technology such as mobile applications has empowered the workforce to become more efficient by identifying and solving problems faster. Mobile apps have proven track records that help justify their usage by field workers, enabling them to record data faster, access work orders and calendars on-the-go, search databases for inventory lists and reference materials, capture data and photos of equipment or drilling sites, and then eliminate the need to re-enter the data once they've returned from the field.
Digital Workspace: Productivity Apps and Their Benefits in the Workplace
Digitization, IoT and Data
Interconnected devices enable the ability to collect vast amounts of data. For customers, these devices range from Nests to online applications. For companies, this could be RFIDs and sensors to monitor the infrastructure for data and maintenance needs. This keeps your operations efficient and informed, so you know what your infrastructures need without sending people back and forth to collect information.



Digital Transformation: Fuel Better Outcomes in Energy with IoT


 
As you adopt more technology into your SCADA systems you become more exposed to potential cyberattacks. Though the original design assumption was that every device was friendly, that is no longer the case. From interconnected IT systems and IoT devices to mobile devices and cloud computing and storage, there is a range of different threats you must plan for before something happens. 
There is a multitude of digital security options you can use to protect your systems, including:

Firewalls

Gateway antivirus solutions

Intrusion detection systems

Multifactor authentication

And more
But knowing these protection tools is only the start. Learn how to meaningfully build a comprehensive digital security strategy to keep your SCADA systems secure for present and future threats.
BizTech Magazine: The Continuing Evolution of SCADA Networks
For more advice, contact your dedicated account manager.
Ready to move your energy and utilities organization forward with the latest technology and security? Get in touch with CDW.
Contact us to learn about the right solutions for your company and customers.