Procuring, configuring and refreshing mobile devices across different operating systems and carriers can be a challenge. From smartphones, tablets and notebooks to routers and point of sale systems, we can help you integrate your software and services to get the most out of your devices.
Working across the device lifecycle, we make it easy for IT to manage a diverse array of organization- and employee-owned devices and platforms.
Ready to request a Collaboration Workshop?

Call 800.800.4239
Speak to an expert to get your free Collaboration Workshop and get started on a custom solution.

What is Mobile Device Management?
Explore what MDM is and learn the tips, tricks and best practices for managing and securing mobile devices.


Modern Workspace Management Builds on the Benefits of Classic Telework
Improve work-life balance and decrease traffic on local roads through telework. Learn how IT Officials can meet the tech needs of employees through managed devices.  

Simplifying Cross Platform Device Management
Today's workplace no longer has one platform to manage. Find out the advantages and features of integrating cross platform device management.
Our Mobile Device Services

We offer a huge selection of mobile devices and accessories — all from the industry's leading brands. Plus, our procurement, activation, configuration and managed services reduce the burden on your team. 
Configuration and Activation
CDW's configuration experts work with your IT staff and your carriers to ensure your enterprise mobile devices are automatically activated, enrolled and ready to use right out of the box. We offer software configuration and imaging services for Windows, iOS or Android, and our tagging, tracking and laser etching services help you streamline asset management.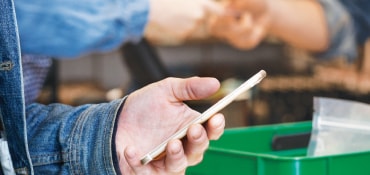 Procure and Provision
Our Mobility Management Portal simplifies administration of devices, including selection, deployment, expense management and help desk services. Employees can order from a predefined catalog, perform upgrades or make changes to existing services — all in accordance with your internal mobile device policies.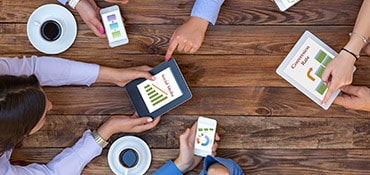 Device as a Service (DaaS)
DaaS gives your organization fully supported, customized devices for a monthly subscription fee, allowing you to shift procurement costs to an operating expense. We'll take care of managing technology refreshes, securing your devices, procuring management software, providing help desk services and recycling devices.
Unmatched Expertise

Our mobility experts have helped thousands of customers craft BYOD and mobile device policies from the ground up. 

Flexible Financing Options

We will work with you to determine the best financing method for your organization, be it a traditional purchase, lease or through a monthly subscription. 
Ready to request a free Collaboration Workshop?
Contact your account manager, or give us a call.
800.800.4239    
Is your organization ready to request a free collaboration?